People instinctively like the concept of "natural" almost as much as we dislike things that are "artificial" or "genetically engineered" or "monstrosities of science." Well, hold on to your learnin' hats, because almost everything that we traditionally file in the "natural" folder has been tampered with well beyond recognition.
Elena Kalistratova/iStock/Getty
The Amazon is one of the last wild frontiers, running through deep rainforests where piranhas and anacondas roam free to consume C-list starlets in subpar monster movies. If there's one place on Earth that absolutely, positively isn't shaped by humanity, it's this majestic river. R-right?
pxhidalgo/iStock/Getty Images
Humans couldn't think up half the horrors in here if they tried.
Nope! As we've mentioned in the past, Native Americans could be ecologically rapacious with the best of them. Despite the stereotype that they were harmonious one-with-nature types, indigenous peoples were masters at modifying the environment to suit their needs.
When European settlers stumbled upon the lush Amazonian wonderlands, they had no idea that the natural cornucopia about them had been meticulously landscaped by mysterious peoples not long gone who had been devastated by disease and internecine wars. These "savages" were the very architects of the Earth. They dug out terraces across the mountains of Peru and seeded the Amazon basin with fruit trees that sustained massive populations.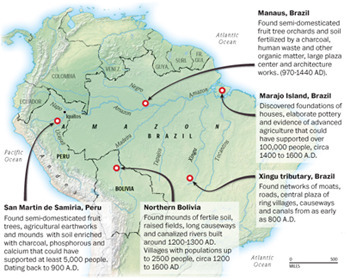 Washington Post
Pushing the smaller mom and pop rainforests out of the ecosystem.
All the older civilizations discovered in the Amazon have one thing in common: They changed the land like no one's business. Researchers have found the remains of ancient agriculture, moats, canals, dams, artificial ponds for fishing, and even a Jamba Juice ... probably! Those sumbitches are everywhere.
Indigenous peoples in Bolivia even managed to divert entire fuckin' rivers. And the soil itself was not safe from human dabbling, although in this case, our actions were in fact beneficial. Large patches of rainforest are covered in a man-made fertilizer called terra preta -- an extremely nutrient-rich "superdirt," the precise recipe of which we're still trying to figure out.
Biochar International
Regular Amazon soil vs. terra preta.
Terra preta is believed to cover at least 10 percent of the Amazon area -- a swath the size of France. This dark, rich soil breeds communities of microbes and fungi that hold onto nutrients in the face of constant rainfall and can keep the land fertile for a hundred years (much like your mother), making farming the area far more sustainable than anything we have today.
Most Fruits And Vegetables
muratsenel/iStock/Getty Images
Since childhood, we've been instructed to eat fruits and vegetables because they're natural and healthy, and also because mom insisted that monsters would steal our organs if we didn't. That's why there's really no way to sugarcoat this: Every fruit and vegetable you've ever eaten was a filthy, filthy lie.
UC Berkeley
For instance, pretty much every salad you've has was mustard in disguise.
That's not necessarily a bad thing. Take corn, the staple grain which kept Native Americans alive and current Americans comfortably overweight. Here's how it has evolved over time:
Donald E. Hurlbert via Science Magazine
Can you guess when it finally hit puberty?
Yeah, those tiny pine cone things are what O.G. corn looked like. Corn was once nothing more than a lowly grass called teosinte, endemic to Mexico's Central Balsas River Valley. Somewhere around 10,000 years ago, our ancestors lucked out when a small genetic mutation saw the kernels emerge. Sensing that future buckets of oil-drenched movie theater popcorn was on the line, ancient farmers added kernel by kernel through a slow, painstaking process of artificial selection.
John Doebly
"Dad, can we eat yet?"
"Not yet. It's going to be at least three or four more generations."
It's not just corn, either. The banana was little more than an inedible pod of nasty-ass seeds until it was domesticated in New Guinea around 6,500 years ago:
D'Hont, Angelique/CIRAD via Musrama
And it was another 500 years before the peel was satisfactorily slippery.
Another common staple, the tomato, used to be ridiculously small before domestication. Tomatoes only started becoming larger thanks to a cancer-like cell growth, to which we reacted not with horror, but by doing everything we could to foster it.
Kent Loeffler via Cornell
"Here tomato, have some chemo."
"Why does it say 'plutonium'?"
Oh, and don't even get us started on wild cucumbers, which look like testicles designed by H.P. Lovecraft.
Calflora.net
So we turned it into a penis designed by John Hammond.
The progenitor of modern almonds was super toxic; a handful of wild almonds are as effective a murder weapon as any blade or bullet. The exact intricacies of domesticating straight-up poison are unknown, but the mere fact that at some point humanity thought fucking almonds were worth the deadly trial-and-error hassle this involved should pay testament to how much we all love putting nuts in our mouth.
What? What did we say? Oh grow up, guys.