Aww, look at that cute little animal doing human stuff. He thinks he's people! He's pushing a little cart, he's wearing a hat, now he's buying a speedball off of Scritchy Saul and overdosing in an alley! Yes, animals like to get just as recreationally wasted as us humans do. Sometimes, even more so ...
Gorillas Get Drunk As Fuck On Bamboo Wine
Andy Rouse
Gorillas have every reason to be stressed out. They're critically endangered, their trees keep getting knocked down, poachers keep trying to shoot them ... how do they deal with this day-to-day nightmare? The same way that we would: by getting riggity-riggity-wrecked, son!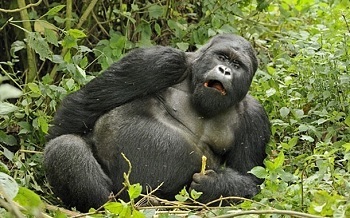 Andy Rouse
"Gimme a double -- Flash kicked my ass twice tonight."
Gorillas in the mountains of Rwanda have discovered a local form of bamboo with naturally alcoholic sap. The locals call it ulanzi, or "bamboo wine." The gorillas just call it "a damn good time."
Andy Rouse, Andy Rouse
Curious George Takes A Ride On The Night Train
Wildlife photographer Andy Rouse discovered the jungle frat party when he went to Rwanda in search of a Gorillas In The Mist experience. What he found instead, in his own words, were "gorillas who were pissed." As a result, he managed to take all of these great photographs that the embarrassed gorillas hope you don't tag them in on Facebook. He's also the first person in history to catch photographic evidence of gorilla hangovers:
Andy Rouse, Andy Rouse
The first step is admitting you have a problem. The second step is not ripping your sponsor's limbs off.
Dogs In Australia Trip Balls On Toad Sweat
Pinnacle Films
Since the 1930s, Australia's wildlife has been waging a war of extinction against the cane toad, an animal that Australia deliberately and stupidly introduced to control the beetle population. In a country where every second rock you turn over is actually some kind of fucking rock-snake that can murder your entire family, it's hard to believe that the king of the food chain is a goddamn toad, but cane toads are so poisonous that they kill anything that eats them, and this is a continent where everything is trying to eat you.
jluizmail/iStock/Getty Images
"Giant, snake-eating spiders? I'll take a pound to go."
But dogs are taking those cane toads and making cane-toad-ade. It turns out that the chemical cane toads excrete through their skin is a mild hallucinogenic in small quantities, which animals can experience by licking them. Since dogs are uniquely prone to licking everything they see, it's a foregone conclusion that they would eventually figure out that toads get them high.
Mark Calleja
Finally, an explanation for why only Snoopy can see the Red Baron.
The drugged dogs run in circles, their pupils dilate, they stare into space, and generally act tripped-out. And, like any human drug, overindulgence can lead to health problems. That's why Australia has rehab programs to get your dog off their debilitating toad addiction.
Pinnacle Films
Because turn on, tune in, drop out, roll over, play dead is no way to go through life.