If you want to simultaneously feel abject terror and pride in your fellow man, go research prison escapes. It's a subject that we find fascinating, mainly because we can't tell if these criminals are inspiring geniuses, or if the average prison has the security of a Motel 6. You're never sure if you should admire their brazen creativity, or just make sure you never live too close to a prison.
And the guys on this list? They pretty much proved they could get out whenever they felt like it.
Charles Sobhraj Proves Himself Unjailable (Almost)
GQ India
Charles Sobhraj was known by many names, including "The Bikini Killer," "The Splitting Killer," and the one we'll be focusing on (because it alludes to his ability to slip right out of The Man's grasp), "The Serpent."
A career criminal, Sobhraj made his living traveling from the beaches of Thailand to the "hippy trail" in Nepal, conning cash from tourists, and then strangling, drowning, or setting them on fire, and sometimes all three (Sobhraj is a horrible person, in case we neglected to mention that). Most of his early hijinks were of the petty variety, however -- like in 1970, when he was locked up in relation to a jewelry heist in Bombay. That also marked the first in a string of escapes, when he managed to get himself to a hospital by complaining about abdominal pain, then drugged a guard, and scampered out a window with a nice new (and totally unnecessary) appendectomy scar to show for his efforts.
simazoran/iStock/Getty Images
The escape is over so quickly, but the scar is something you'll always have.
He fled to Kabul, Afghanistan, where he was arrested again for failure to pay a hotel bill. This time he cranked the gross-o-meter knob up to 11, using a smuggled syringe to draw his own blood and drink it like some sort of self-loathing Dracula. Taken to the hospital again (where confused doctors probably tried to remove his appendix), he once again drugged a guard and slithered away.
His crime spree roadshow took him all over the Eastern hemisphere from Iran to Greece, where he was again locked up after a robbery. This time he started a fire in the back of a police van and bum-rushed the door when the guards stopped to investigate. This pattern continued until Sobhraj's success at evading confinement began to go to his head -- he started to think of himself as a "Nietzschean character, a criminal Superman."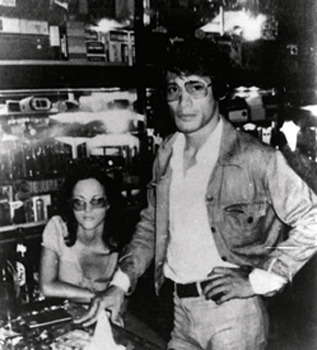 GQ India
A "Jean-Claude Van Damn," if you will.
But when the ponytailed bodies began to pile up, international law enforcement stepped in. When Sobhraj was arrested in New Delhi after posing as a tour guide and poisoning a group of French students with "dysentery pills" that gave them violent diarrhea in the lobby of a busy hotel (he was presumably just being a straight-up dick that time), authorities were able to link him to unsolved murders across several countries. Sobhraj was sentenced to 11 years for one murder plus the French pants-shitters, and it looked like The Serpent's jig was up.
Not the type of guy to let that get him down, he used his skill at manipulating others to ensure that he was treated like royalty while in the slammer. He sold interviews to sympathetic Western journalists and bided his time. It was a calculated move -- by serving the sentence in India, he would avoid a longer sentence in Thailand. When it looked like he might get released too soon, he escaped and got recaptured on purpose, just to allow the Thai statute of limitations to expire.
Dick Luria/Photodisc/Getty Images
"Is there any way we could time it so the expiration lines up with my birthday?"
After his release he moved to Paris, where all those interviews he did in prison resulted in him becoming a minor celebrity. Then, apparently tired of basking in the glow of his notoriety, he inexplicably (or absolutely explicably, considering his planet-sized hubris) took a trip to Kathmandu to gamble openly at a casino. Unfortunately (for him, not for society at large), he apparently forgot all about the 30-year-old Nepalese murder warrant that was still outstanding.
See, kids? Your past always catches up with you. Eventually.
Moondyne Joe Is Forced to Break Rocks, Escapes Via Big-Ass Pile of Broken Rocks
daizuoxin/iStock/Getty Images
The son of a Welsh blacksmith, Joseph Bolitho Johns was better known as Moondyne Joe because he's credited with discovering Moondyne Cave, and also because what the hell else would you call a guy who looked like this?
Alfred Chopin
Crazy-Beard Hatchet Joe just doesn't have quite the same ring.
That photo probably tells you every single thing you need to know about Moondyne Joe, but we're going to tell you the rest anyway. In 1848, Joe and a friend were stopped by the police in the wee hours one morning, their arms cartoonishly overflowing with "three loaves of bread, two pieces of bacon, a shoulder of mutton and some suet." This being the mid-19th century, messing with another man's bacon was a serious goddamn offense -- Joe was arrested for theft and promptly deported to the prison colony in Australia.
Once there Joe was issued a ticket of leave, entitling him to all the wonderful freedoms Australia had to offer (i.e., getting horribly mauled by the fauna). He was a good little deported convict until 1861, when he was caught stealing a horse and subsequently locked up. He quickly broke free and re-stole the very same horse plus the magistrate's saddle, because that's just the way Moondyne Joe fucking rolled. He was recaptured two days later and sentenced to three years of servitude.
Ivan Tykhyi/Hemera/Getty Images
"Of course you can take stable cleaning du-- Hey, wait a minute!"
After his release he stayed out of trouble for almost a year, after which he was charged with killing an ox with felonious intent because seriously, fuck oxen. He escaped three times in the following four months. The final time he was recaptured after stealing 36 ladies handkerchiefs, because Moondyne Joe's story wasn't quite absurd enough yet.
That's when Joe was chained by the neck to a post while the governor constructed an escape-proof cell, sarcastically telling Joe, "If you get out again I'll forgive you." While neck-chained in the prison yard, Joe was tasked with breaking rocks. The guards were tasked with removing said broken rocks at the end of each day, but as the guards got lazier, Joe's big-ass rock pile got bigger. So big, in fact, that it neatly disguised the big-ass hole he knocked through the prison wall and used to let himself out by way of the superintendent's backyard.
ultrapro/iStock/Getty Images
"We would have checked, but he put up a 'No Guards Allowed' sign. What were we supposed to do?"
Joe popped up again two years later while robbing a winery, but he convinced the governor to honor his promise and let him go. Towards the end of his days, Joe went from a little crazy to bat-shit crazy, and he ended up in lunatic asylums from which, in true Moondyne Joe fashion, he escaped four times before his death in 1900. Today he's best remembered during the annual Moondyne Festival, which, in addition to a Moondyne Joe cosplayer running around causing all manner of ruckus, features mustache and cleavage competitions.
We have a feeling Moondyne Joe would've wanted it that way.