People in some countries, regions, organizations and religions must contemplate high treason when they see the banner they're forced to rally 'round: ugly, wrong-headed, plum baffling, symbolic of failure. In honor of President's Day, an examination of some flags, past and present, that don't make anyone angry when burned.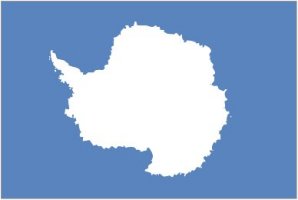 Meaning:
Non-existent. It's a landmass. It's white. It's the place you're in. It's literally Antarctica, surrounded by ocean. If anything, this flag's existence is a metaphor for make-work projects, and the peon whose lap it fell into didn't pad his deadline enough.
Drawbacks:
* You don't need any kind of flag to be reminded that you're in Antarctica. The urine freezing inside your urethra is enough.
* Hard for the kiddies to make out of construction paper in school, what with all 11,000 miles of coastland, detailed to the last inlet, sound and fjord. But then, who raises kids here? Asshole scientists. Probably.
* Not one penguin.
Motto inspired by flag:
"This is Antarctica."
Ah, Jainism. The Indian religion that's going to kill the next person who says, "What's it like to be Hindu?" Yes, religions have flags. Turns out that ineffable tenets of faith can be summed up in a few snazzy graphics just like the rich history of any country: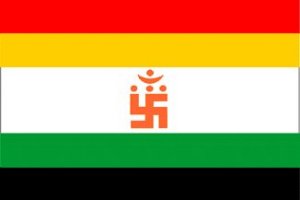 Meaning:
Each color represents a group who has done more than just drop some coins in the Jain Salvation Army pot. Monks, teachers of scripture, souls who have transcended the material world--they all get their own happy stripe. The three dots remind one of the "jewels" of Jainism: faith, knowledge and good behavior. If a man asks you to "embrace the jewels," make sure he's a Jain before answering. Or at least attractive.
Drawbacks:
* Just one. Can you pick it out? Let's face it, you could have the greatest flag ever, but a couple decades of putzes with armbands and your 1,000-year legacy is tainted forever. Even the transcendent souls must find themselves sweating when a B'nai B'rith tour bus pulls into the village. Sorry, entire religion of Jainism: your swastika is lovely, but ... you know.
Motto inspired by flag:
"Heil, mein f,hrerwalla!"