You remember the ultra-popular game show Who Wants to Be a Millionaire, right? It was a cultural phenomenon that dominated the prime time television lineup like no other game show ever had or likely ever will. The show was packed with drama, had an adorable host, and most importantly, allowed the person answering the questions to ask for help from the audience and people at home.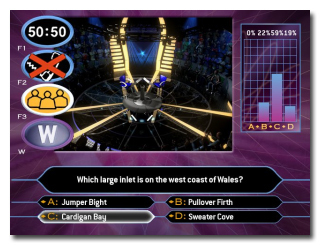 "On the keypad in front of you, please enter how many dicks you'd like our contestant to suck ..."
Those pleas for help from other people came in the form of "lifelines" that could be used if a particularly tough question had the player stumped. One allowed you to call any person in the world, provided you actually knew them, and ask them for help. There was another that allowed you to poll the studio audience. It's in that particular gameplay twist that a fundamental difference between two formerly hostile nations reveals itself.
In the U.S. version, it's claimed that when polled, the audience provided the right answer an astounding 91 percent of the time, making the "ask the audience" option one of the most trusted and popular on the show. Like any other TV series, though, Millionaire didn't only air in the United States.

In Soviet Russia, the title cards have no goddamn clue what's happening.