As the network Lifetime has insisted on learning over and over again during the last few years: Just because you can make a biopic of a beloved celebrity's life, doesn't mean you should. Especially when everyone in the world is begging you not to bother.
5

Michael Bay Is Doing a Movie About Benghazi
Quick recap: on Sept. 11, 2012, a group of Islamic militants attacked the American embassy in Benghazi, Libya, killing four Americans stationed there. Since then, there has been controversy surrounding the government's handling of the aftermath, whether or not the Obama administration could have done more to prevent it, and, naturally, a whole slew of nuttier-than-squirrel-shit conspiracy theories.
Hue/amanaimagesRF/amana images/Getty Images
"Benghazi ... Ben ... Uncle Ben ... the White House controls us with rice!"
In spite of whatever Reddit threads or your drunk uncle say about secret backdoor gun dealing, there are legitimate discussions to be had about the incident, and it may be years before we know what did and should have happened. Or you could just watch Michael Bay's next movie.
Long known for his subtle and nuanced filmmaking, Bay is helming a project that will detail the attack from the point of view of a security team tasked with protecting the people in the embassy. Considering that one of the main conspiracies surrounds exactly what orders the security team was given, we can only imagine that Fox News will dedicate another 1,000 segments to the movie and wacky conspiracy theories.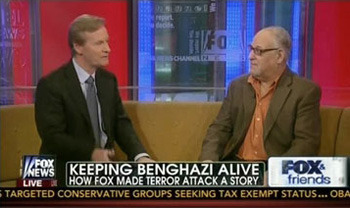 Fox News
"Actually, it's about ethics in explodey action film journalism."
But hey, Bay's last movie about an American tragedy wasn't terrible, right?
4

An AC/DC Cover Band Is Making an AC/DC Biopic (Despite AC/DC Begging Them to Stop)
AC/DC's storied history is a mixed bag of terrible hardship and remarkable luck. In 1980, tragedy struck the band when lead singer Bon Scott died after a night of partying. That same year, the band was blessed with finding replacement singer Brian Johnson. What are the odds of two people on Earth being able to sing like that while rocking your mom's '80s perm?
acdc.com
Back in Fab