If there's one thing Hollywood loves, it's doing the exact same thing over and over again until there is no more blood to be wrenched from a particular stone (such as the upcoming glut of superhero films, and the fact that all movie trailers are orange and blue now). So let's take a look at the upcoming year Tinseltown has in store for us so we can see what we'll all be tired of by this time next year.
5

Every Network Will Have Its Own Subscription Streaming App
We're guessing that your current television-watching outlets consist of Netflix, Hulu, maybe a friend's HBO Go password, and possibly Amazon Prime, because who can afford to miss even one second of Alpha House? That's four different services, and it still doesn't give you access to every show on TV. Still, subscribing to a handful of different services is better than paying for cable and having to sit through commercials, right? Well get ready to double that number, because next year, every major studio and their grandmother is going to be putting out their own streaming site.
For starters, HBO is finally going to release a standalone subscription service right around the time when the new season of Game of Thrones starts (we assume they're going to abandon all pretense and just call it the "Watch Game of Thrones Without Getting a Virus from a Racist's Bit Torrent" app). Also throwing their million dollar hats into the streaming service arena are CBS, Starz, and Lionsgate, so now you can have a streaming service dedicated entirely to the Hunger Games movies and films starring professional wrestlers.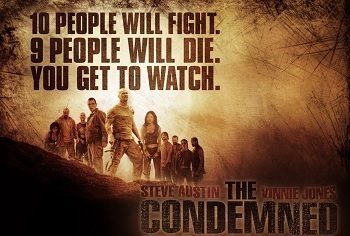 Lionsgate Entertainment
And that cross-over they did.