But the most depressing thing about this sandwich is neither the sheer lack of creativity nor the fact that Dunkin' Donuts has biologically engineered perhaps the world's most efficient diarrhea grenade. No, it's that this monstrosity packs 30 calories less than the turkey sandwich on their healthy menu.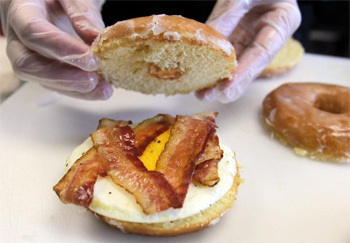 Jessica Rinaldi/The Boston Globe
"It's like an enema ... for your mouth!"
And if you think this is an affront to bacon, egg, and cheese sandwiches everywhere, brace yourself for our next taste sensation ...