In this commercial, two women come across a kilt hanging in a forest near an icy lake. It belongs to the Pre-Hound, who is swimming in the lake like a sexy little polar bear, far too comfortably for a man from the temperate Casterly Rock. As he nears the shore, the women giddily anticipate the sight of some Hound dong, something the show has been egregiously lacking. Instead, they're greeted by this goddamn Adonis: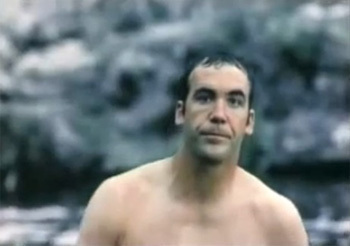 Quaker Oats Company
"'sup?"
He's almost unrecognizable without his disfiguring scars, but if you squint really hard, you start expecting him to snarl menacingly at the little birds. Instead, his face contorts into what scientists have indeed determined is a smug grin, something previously thought impossible for the Hound's face to do. This isn't HBO, so there's no dong to be seen.
Quaker Oats Company
"And with how cold this water is, I'm thankful for it."