Remember when the announcement of a new sequel to your favorite movie made you go, "Oh cool," instead of, "STOP MURDERING MY CHILDHOOD, YOU ASSHOLES"? We barely do either. The lesson has been learned by now that for every Godfather II, The Empire Strikes Back, or Van Wilder 2: The Rise of Taj, there are dozens of half-assed cash grabs by movie executives who see sequels as the path of least resistance to their next caviar-powered Bugatti.
And, as improbable as it sounds, it's about to get much worse. Proving that there's no franchise out there that Hollywood is unwilling to defile and befoul, here's what's being explosively shat out as we speak:
5

The

Rocky

Spinoff About Apollo Creed's Grandson
If you absolutely must do a movie based on a non-Rocky character from the Rocky franchise, we'd personally recommend either a Clubber Lang or Ivan Drago origin prequel (or maybe a combination where they meet/fall in love/fight crime). MGM has other plans: they've already greenlit a spinoff about Apollo Creed ... 's pampered grandson. It's going to be called Creed, appropriately enough, and star Michael B. Jordan, who's already a seasoned veteran of ill-conceived franchise revamps.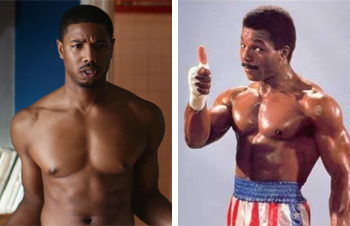 FilmDistrict, United Artists
To be fair, the nipple resemblance is uncanny.