Apparently, 2014 was the year when the inevitable finally happened: companies ran out of slogans. Or they ran out of passable, "doesn't make you want to murder whoever wrote it" slogans, anyway. If Don Draper hadn't been murdered by a roller-skating disco prostitute in 1979 (final season of Mad Men spoilers!) he'd be shaking his head at ...
5

Van Rental Company Goes for the Racist Pervert Market
If you're driving through Australia, you already expect to see a lot of terrible things. Killer spiders, killer kangaroos, killer koalas -- all par for the course. One of the few things you wouldn't expect to assault you in Australia is a series of giant, racist penis, but here we are: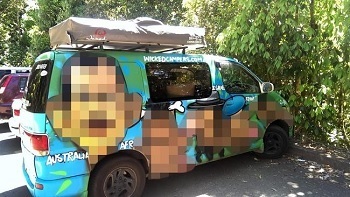 Shannon Power
Click here to see the uncensored versions, if you hate yourself.
An Australian van rental company, Wicked Campers, decided to cover one of their vehicles with pictures of penises from Egypt, Jamaica, England, Australia, and "Africa," dressing them up in stereotypical outfits from each place. And, of course, the stereotypical dicks also varied in stereotypical sizes: the Japanese dong was barely visible, whereas the African one was an Ouroboros-type monstrosity twisted upon itself. To top off their classy paint job, the back of the van boasted this slogan:
Shannon Power
Apologies for not blurring out the offensively bad punctuation.