Ex-NBA superstar/hobgoblin Dennis Rodman has been making the news lately because of his bizarre bromance with North Korean despot Kim Jong Un. (Said Rodman of his recent and second trip to visit his human-rights-violating buddy, "He's my friend for life ... I don't give a shit what people around the world think about him.")
Their friendship is strange, but if you examine the details, a much more frightening scenario emerges: Rodman's life is playing out like a real-life 1990s underdog sports flick, in the vein of The Mighty Ducks.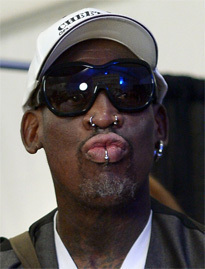 Gustavo Caballero/Getty Images Entertainment/Getty Images

He's already in the process of trying to bang Joshua Jackson's mom.
Why's this so scary? If Hollywood has taught us anything, it's "always bet on the team with the homemade uniforms."
4

There's a Washed-Up Sports Star With Drinking Problems
Audiences know that the bedrock of any scrappy bunch is a vicious alcoholic with nowhere to turn. In The Mighty Ducks, we had Emilio Estevez as surly attorney/ex-hockey phenom Gordon Bombay, who's arrested for drunk driving.
Walt Disney
"If only I knew someone whose addiction gets in the way of his career that I could study for this role ..."