Once equipped, however, shit starts getting real, as you are free to attach the unsightly dildo extension of your choosing: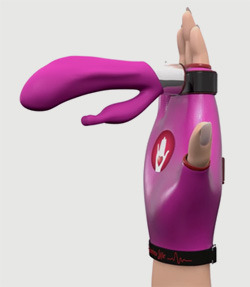 Glovinlife
Also a foolproof way of hailing a taxi cab.
Now, all you have to do is turn on the engine and let that pink xenomorph go to town on your lady bits. The idea behind this contraption (touted as the best sex toy innovation since mankind discovered the cucumber) is getting your jollies off simply by moving your fingers up and down with about as much exertion as it would take to shoo away a fly. Since your arm and wrist won't be busy with all the movement normally required, your arm can replicate the full experience of having an apathetic, unenthused lover lying on top of you, with the added bonus of looking like a vagina bandit.
The Glov also has buttons on its side for controlling the speed and strength of the vibration ... you know, if you can muster the strength to reach for them. Shockingly, this world-changing idea didn't even reach a quarter of its funding goal on Indiegogo, so now Steve Scrase must know how Van Gogh feltse.