In an ad that was recently pulled from YouTube for the crime of being shitty, Subway reminded women everywhere that their ONLY option for a Halloween costume is "sexy version of literally any noun in the English language."
Subway
The people that thought this up wear helmets as part of their normal day.
Unless they plan on spending hours making costumes from scratch, ladies are given no choice but to dress up like they're brainstorming a character for the Erotic Wrestling Federation. Which is fine if you want to go to a party as Sexy Hermione, but what if you just want to be plain old Hermione? Will the aggressive sexualization of the most fun holiday of the year ever end?
Nope. The problem has become so systemic that it just perpetuates itself with minimal (and counterintuitive) input from us, like some kind of insane robot.
4

Halloween Is Designed to Screw Over Women
First of all, Halloween is sexualized for women, period. Even if the "women" in question are barely out of diapers. For example, here are a few not-at-all uncommon costumes for girls who are still in elementary school, which you may remember as the time of your life when you consumed nothing but juice and boogers and still believed one or two of your favorite cartoon characters were real people: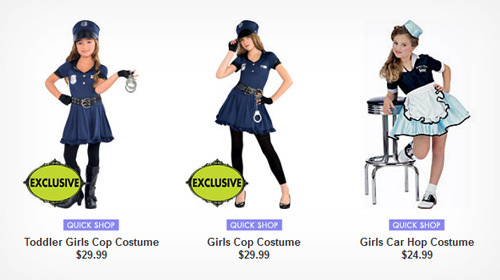 partycity.com
If you see a toddler in that outfit please let a real cop know.