Creeping out random strangers used to take a lot of effort. Between all the materials you had to buy (voodoo dolls, voice-distorters, magazines with various types of fonts) and the time you had to spend hiding outside windows/behind bushes/under beds, being a horror-movie-level creep was a hobby only a select few could pursue. Luckily, that's all in the past -- the wonderful world of technology is making it easier and more convenient than ever for varsity creepers to trap strangers in terrifying situations.
4

An App That Favorites Old Instagram Photos Specifically to Creep People Out
There are two types of people in the world: those who think accidentally liking an extremely old photo on someone else's social media profile is the worst thing that could ever happen, and those who are annoyed that you have to scroll too much to do that. Like Creeper is meant for the second crowd.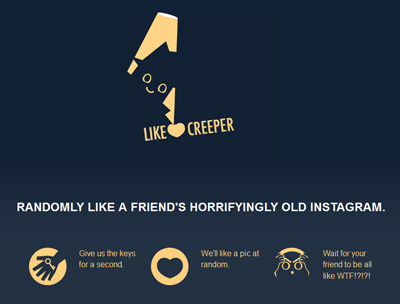 Like Creeper
"Step 4: Enjoy your new restraining order!"