Even if by some miracle (granted by the enchanted amulet he no doubt keeps hidden beneath his longshoreman's cap) Martin manages to heave out the sixth book in time for a 2016 photo finish, that still doesn't factor in the yearlong production schedule that each season of Game of Thrones requires. That means the soonest we'd see Season 6 would be 2018, and then we'd have to wait another five fucking years for Martin to put out the seventh book, putting the series finale somewhere in the realm of 2023.
So what exactly is going to happen? Not only does no one seem to have any idea, but no one involved in the production seems to be overly concerned, as the possibilities range everywhere from taking a really long hiatus to George R.R. Martin's suggestion of creating a totally unrelated mid-series to shift to some of his other books and novellas in the Game of Thrones universe, because what every Game of Thrones fan absolutely wants is another 1,000 character names to futilely try to memorize.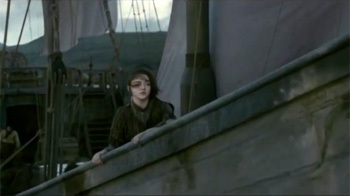 HBO
"If The Walking Dead can get a season and a half out of the prison, we can get 10 episodes out of Arya on a boat."