29 Creepy Murders That Remain Unsolved
Murder mysteries in Hollywood have a pretty predictable arc to them… You have a murder (it'd be a very subversive entry to the canon of the genre if everyone was alive the entire time), there's usually an intrepid investigator doing their best to get nominated for an Oscar, and there's a twisty and bendy script that ends with apprehending the person responsible for the death. Pretty standard stuff.
Wouldn't it be nice if real life worked that way? Unfortunately, there are an unsettling amount of murders out there that just… go unsolved. Those in charge of investigating them hopefully do the best they can with the information they have, but the case still ends up a stack of papers collecting dust in an old file cabinet.
Below are some the creepiest unsolved murders throughout history that have managed to keep us up at night. Maybe someday we'll get some resolution, but until then we'll be doublec checking that our doors are locked.
Little Lord Fauntleroy
The Texarkana Phantom
The Sutter County Does
Bob Crane's Death
Who Burned the Investor?
The Weirdest Suicide Ever
The Peasenhall Murder
Fred and Edwina Rogers
Body in the Trash
The Cat Murderer
The Killing Fields
Justin Gaines' Disappearance
Amber Haggerman
The Missing Head
Salon Triple Murders
Sherman Double Murder
Blair Adams
Tylenol Murders
John Bodkin Adams
Girl Scout Murders
The Disappearance of Laurie Depies
The Bowling Alley Massacre
Ghost Bomber
Christmas Ribbon Killer
The I-70 Killer
Elizabeth Short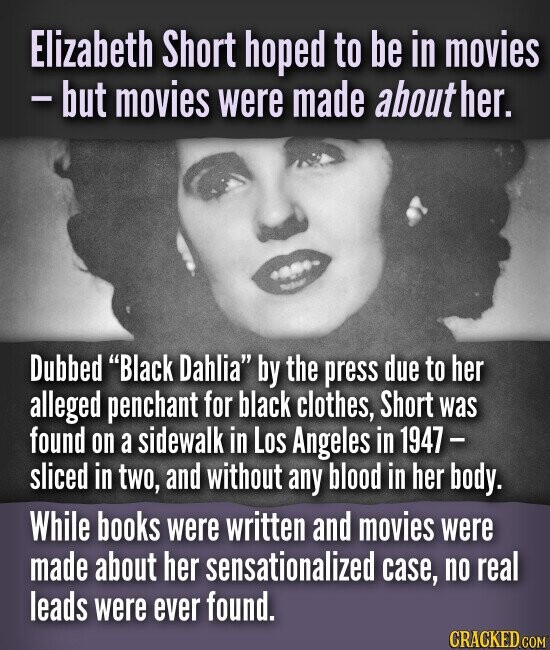 William Herbert Wallace's Wife
Dorothy Jane Scott's Disappearance
Artemus Ogletree's Death