33 Medical Oddities That We Can't Believe Are Actually Real
The things the human body can do is kind of incredible. They're all made up of a strange combination of meaty bits, salt, water, and sentient goo-- and while a lot of people put a ton of time and money into figuring out how these flesh suits that our brains live in work, and how to properly fix them when they're broken, there are still a lot of crazy scenarios we can't account for. This results in bizarre medical conditions we previously believed shouldn't be possible, or horrifying situations that sounds like they were made up to scare us from ever leaving our house. While not all of the examples below are utterly terrifying, we're glad that it's our job to collect the stories into easily digestible lists for you to read in the bathroom, and that we don't have to actually try and explain them to patients. We'll leave that to the smart people who don't describe your body as a "flesh suit your brain lives in."
Who needs to smell while they sleep?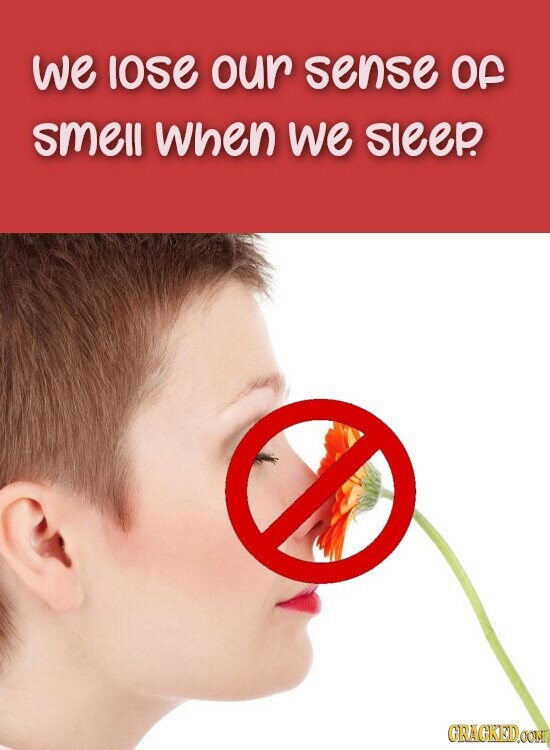 Toenails aren't in any rush to grow back.
Gentlemen?
Redheads get hurt way more easily.
Look at you, guts for brains!
Sandra Laing had a unique condition.
The liver is kind of incredible.
Babies have way more bones than the rest of us.
Humans and cats? Bros.
Bagels are unexpectedly dangerous.
You've got sweaty, sweaty feet.
Moms and fetuses working together.
You never want to hear "We missed a couple" after a pregnancy.
Not quite Wolverine, but close.
A spicy way to get rid of hiccups.
Getting mugged made this guy smarter?
Hearing voices was helpful this one time.
Hamish Syndrome is a better name than "Thigh Kidney Boy."
Your eyes can actually breathe.
Tell this one to your parents.
A transplant gives you a third kidney.
Women can stay mentally sharp for longer.
If it works, it works!
When can I unlock my phone by licking it?
Rob has it all!
This guy can't get away with much.
Having half a brain isn't as bad as you'd think.
This guy is immune to AIDS.
A weird way to pick up an accent.
It's not a tumor! Really.
Your surgeon might leave their car keys... inside of you.
Your Mom thinks you don't stink!
What's happening to German soldiers?