In the 1990s leading up to the prequel trilogy, internet rumors were rampant about the New Star Wars. The popular name for the next movie was Star Wars: Balance of the Force. Some of the internet rumors would have led to better than what we got....
Just The Facts
'Balance of the Force' was the popular name given to the first Star Wars prequel until along came 'The Phantom Menace.'
In the late 1990's, the internet was abuzz with fan rumors and speculation.
Some of the fan rumors and speculation turned out a bit better than the prequels themselves.
Liam Neeson Would Have Played Yoda...
One of the first things that we knew about the new Star Wars prequels was that Liam Neeson would be in the prequels and Liam Neeson would play a Jedi. The name of the Jedi that Liam Neeson would be playing was not released. Here is what we did know, Yoda was the one who trained Obi-Wan. The rumor arose that Liam Neeson would actually be playing Yoda in the first movie. It is just that Yoda orginally looked like the supreme badass you see in the picture above. Through some sort of curse and sacrifice (possibly from THIS GUY)....
Liam Neeson would have been turned into this green little guy...
The rift as well as the sacrifice would lead to Obi Wan's hubris in believing that HE and not Yoda should be the one to train Anakin...
The TURN Would Have Happened In Episode Two For A Very Different Reason..
In Episodes 4-6, it is firmly established that the reason why Anakin turned to the Dark Side was because ObI Wan believed that he could train Anakin better than Yoda could. However, Anakin's turn to the Dark Side might have been a bit more compelling had the actual reason been something down the lines of this...
The story goes Anakin and Obi Wan both had the hots for Padme. The fissure of the ensuing love triangle not only caused a rift between Anakin and Obi Wan, it also gave Palpatine the impetus to be able to turn Anakin to the dark side of the force. It was Obi Wan's arrogance as well as Anakin's lust that led to the tragedy. In this story, Anakin would have been with Padme to father the kids, however Obi Wan may have had her heart. In the end, the actual turn would have happened because of the following event.....
Anakin Would Fall After Killing Ben Kenobi
Episode Two would have featured a light saber duel between Obi Wan and Anakin as well. However, in this light saber duel - Anakin would have won in lethal fashion....
Confused? OK, Anakin kills Ben Kenobi. This would be after Padme's heart feel for Obi Wan. Being the Jedi that he was, Obi Wan would have spurned Padme's advances. Being the woman that she is, Padme would have gone and nailed Obi Wan's best friend who wanted her since he was like ten....
Anakin's lust as well as the betrayal would be the perfect point for Palpatine to step and make Anakin a Dark Lord of the Sith. In order to atone for the situation as well as his own failings with Padme and Anakin, Obi Wan would go after Anakin. However, Anakin would then kill Obi Wan in their first duel. This would lead to the drama that ensued in Episode III....
Obi Wan Really Means Old Ben One
Obi Wan is kind of a funny little name. This would be until you remember that the name was actually Ben Kenobi. By the time that we get to the 'New Hope,' we have taken to called Ben.. Old Ben...
Except that this was NOT the Ben Kenobi that we would meet at the beginning of Episode One and who would die in Episode Two... Remember a little thing called THE CLONE WARS??
Yeah, this would mean that Obi Wan actually stood for 'Old Ben One.' In short Obi Wan is actually the clone of Ben Kenobi created for one purpose and one purpose only. This clone would avenge the fallen flawed hero that fell to his own prodigy because he could mot muster the resolve to kill what was essentially his own creation. This would make Episode III the mother of all grudge matches.
The New Man In Padme's Life
With her true love Ben Kenobi dead and her wild fling lover Anakin having killed him, a pregnant Padme would not turn to either the Obi Wan clone or the new Sith Lord. As a matter of fact, it would be of the greatest importance to hide the whole pregnancy altogether from the new Dark Lord of the Sith. Consequently, a girl's gotta love right? This would introduce a new playa into padme's life. Bail Organa in the form of the handsome Jimmy Smits.
Bail Organa was not cur from the standard Jedi cloth. Organa was a Senator. He was a dignified older man who would be able to take care of Padme and her children. In short, turning to a guy like is exactly the thing that a real woman might do in a time of such crisis. Padme and Organa would have worked together in the Senate and spent a lot of time together. The consolation would have led to love as well as a jealous, angry, baddest man in the galaxy.
This would also explain why even a couple of decades later, Darth Vader would not even blink under his helmet when he went and did this...
Take that you girl stealing (expletive deleted)!!! Its images like that this that might make John Kerry never want to date again. Bail Organa would have taken credit for impregnating Padme in this scenario leading Vader to believe that Bail Organa was in on Padme's clown car love life the whole time. Vader believing that Leia was the daughter of a union between Organa and Padme while she was still with him even sporadically would have led to an animosity on Vader's part. That animosity could easily lead to scenes like this....
As well as this gem....
Obi Wan Hid Luke With The Kenobi Family
Before everything was sorted out and re-written, the Return of the Jedi novel and a few of the approved comics alluded to 'Uncle Owen's' true familial relations. More specifically, Owen was not in any way related to Anakin Skywalker at all. This would not even be trough the marriage of Owen's father and Anakin's mother. As a matter of fact, Owen Lars was portrayed as Ben Kenobi's brother.
In some ways, this storyline actually makes Owen's seemingly prickish positions alot more understandable. Freshly off defeating a Sith that your brother trained as well as fell too, the clone of your brother hands you a boy to raise. Then, said clone of your brother doesn't leave your planet as a constant reminder that this whole messed up situation happened in the first place.
ObI Wan and Owen On Tatooine
Then what does the 'Clone' do? He stays around your home planet. He puts you and your new family in constant danger every day. Then this genetic garbage meatbag has the audacity to come in to your house and argue with you. WHY!!!! Because, this quickly grown thing that looks like your dead brother wants nothing more in life than to train a boy you raised as your son to go do the same thing that got your brother killed in the first place. Not only would this put Owen against all things Jedi, all the sudden it makes perfect sense as to why he would throw Obi Wan's robed butt out in the sand and tell 'Obi Wan' that he was never welcome around Luke again. After all, who knows when the Empire would wake up and something like THIS might happen...
The Rise And Fall of the Mon Calamari
One of the great teases of the images coming out of the new Star Wars trilogy at the time was the hope that we would see the home world of the Mon Calamari.. which was lobster dude Admiral Ackbar up there's race.
First, this was supposed to be th underwater paradise of Mon Calamari.
All that turned out to be was the home town of this guy...
Just imagine for a minute how much infinitely more sense it would have made if the plucky side kick was actually Ackbar. The story could have been his rise from a small town native to Admiral of the Rebellion after seeing what happened to his friends growing up. A story that could have in many ways mirrored and foreshadowed someone elses..
So we did not get that in thr first picture, there was still hope though when you see an image such as this...
Forgive us if we were not expecting whatever those walking praying mantis things were... who did not even bother to use the word Spaarti...
Yeah.. that.. whatever... The Mon Calamari were supposed to be the equivalent of luxury captains and staff who would ferry tourists across the galaxy. In essence, Ackbar really wanted to grow up and have his existence mirror ... this guy...
Sadly, such a future was not to be. You remember those ships that Askbar and his crew were flying around? Those were supposed to be retrofitted luxury liners. Essentially, it was Titanic Meets Battleship...
The turning of this race of aliens meant primarily for ferrying around tourist and serving cocktails into hardened warriors for the Rebel Alliance could have been one of the more compelling and poignant stories in the Star War universe on film. The important part here being the phrase could have been...
Boba Fett Would Have Been An Old Gunslinger In Episodes 4-6
One of the teases that George Lucas gave heading into Star Wars Episode Two was "Get ready for Boba Fett..." At this point, Star Wars fans had waited two decades for Boba Fett to justify the sheer awesomeness of what we all knew to be called Mandalorian Armor. The word Mandalorian was intentionally left out of the prequel trilogy. Get ready, Boba Fett was finally going to be...
A ten year old brat. At the end of the movie, he's holding the head of his decapitated father. True to form, it was Daddy or clone alpha Jango Fett that got to do all of the awesome. Well, except for the whole death part...
Now lets back up for a minute and imagine that George Lucas had actually delievered on his promise. Think about it, Boba Fett would have been the most feared bounty hunter in the galaxy in his prime during the prequel trilogy. This would have actually explained why (while still feared) he was much more reticent for direct contact in Episodes 4-6 and had learned behind the scenes ways of getting his prey. By Empire Strikes Back, take off the mask and you would be looking at this...
Hanging out at Jabba's palace would make a lot more sense in this particular scenario. Fett was near the end of his career on the Han Solo bounty anyway. It was just so much mountains of cash that the bounty was practically irresistable. So, you go out and put on one last hurrah so that you can ideally spend your retirement in glorius fashion...
Not getting the whole picture, how bout this being what Boba Fett was shooting for the entire time hanging out at Jabba Mansion...
Then all of the sudden, all you are there to do is watch some guys get thown into the Sarlaac Pit and all of the sudden a gunfight breaks out. You still got game but most of it was gone a decade or so ago. This is simply not how you operate in your seventies... Again under the helmet, everything has gone to this....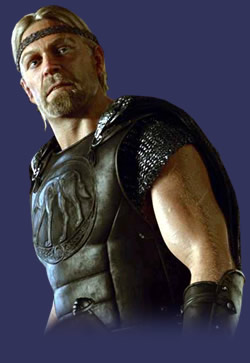 You try, but thats when things like this happen...
The Final Scene
Even for the prequel trilogy, there should have been a final scene that actually brought both trilogies together and made sense. This would be especially true if they never planned on making Episodes 7, 8, and 9. A thought about this was bandied about in discussion forums and then completely ruined by the common trope known as memory erasure. These would have been the characters that tied the whole thing together....
Before 'memory erasure,' you could have had a final scene in which the entire events of all six movies was actually being either viewed as a historical document or salvaged by people decades in the future. How would this have been possible?
There was even a plausible way for narration and sound effects no matter what language the person working on the droids happened to speak.
In this fashion, the droids would have been observers the entire time that could have shared the saga with a future generation that stumbled upon them and had questions. The whole thing could have been in the files of a possibly deconstructed R2 database. But no, you had to go and erase memories. Then any changes later would involve Greedo shooting first and Darth Vader screaming no. Just pure speculation, but it all might have made a decent film series after all.