I would guarantee someone, somewhere is high reading this. If that's you, this top 10 is here to aid in your dragon chasing fun.
Just The Facts
Marijuana is the most popular illigeal drug in America.
Marijuana gains it's high enducing properties namly from the chemical THC.
Many people actually dislike grass also, surprisingly.
Large legal debates have happened over what should be the law regarding weed.
Marijuana proudly carries the title as a drug you can't overdose on.
10: Practical Joke
Okay this might seem like a waste of time, but the power of humor should not go unnoticed. A small, simple practical joke, especially when setup before reccieving the green can, and will deliver guarenteed laughter until you forget what happened.
This, but imagine you, and all your best buddies are high while pouring.
Try setting up a prank where you put tacks on the floor outside a door that you know one of your friends is going to come through, sit back, roll a joint and let the fun begin.
Even better if you have a buddy getting high too, setup a more complex prank and breakdown with laughter when your prank nails the unsuspecting person. Your prank could be as simple as dropping water ballons out your appartment window. It doesn't really matter what you do because you're high.
9: Burn Things (Other than your blunt)
Everyone has that little arson deep in us that is always begging to come out. Remember all the fun you had last year when you burned that sweater you didn't want for christmas but got anyway?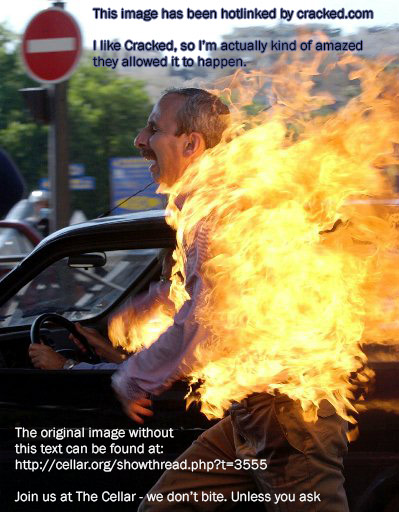 Hopefully you took it off before burning.
Try getting something flamable...O say an old stuffed animal. Take that out to your driveway, and light it on fire. You get to let out your inner Satan and light some fire! Although having a non-high buddy around to help would be good. You don't want to light yourself on fire again do you?
When you don't have a buddy.