Star Trek
universe to determine the qualities that would make them suitable for leading the sixth greatest country in the world. Hopefully this will also get me out ahead of the people printing "Picard for PM" signs, and save us the trouble of listening to that particular debate for the next 20 years.
James Tiberius Kirk
Pros:
Charismatic. Knows how to use his fists. Inspiring orator. Actually Canadian.
Cons:
Prone to violence. Very high chance during a G-8 summit he would grapple with a world leader before knocking him to the ground with a cross. __
Jean Luc Picard
Pros:
Has a deep abiding respect for due process and playing by the rules. Very Canadian. Exceedingly diplomatic. Almost no chance of him grappling with world leaders. Speaks French.
Cons:
Bald. Possibly compromised by his time with the Borg. Not actually Canadian. __
Benjamin Sisko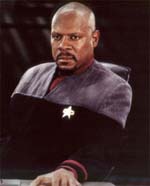 Pros:
Has executive experience running a space station, host to people from a hundred different cultures. Wrote the "Thong Song," which was
the
anthem for an entire generation for much of the Spring of 2000.
Cons:
Seems on edge. Not actually Canadian. __
Kathryn Janeway
Pros:
Is used to long stretches of tedium, which is kind of a thing here in Canada. Businesslike haircut.
Cons:
I didn't actually watch
Voyager
. Not actually Canadian. __
Scott Bakula
Pros:
Just a magnificent specimen of a man.
Cons:
None. __
Recommended For Your Pleasure