So come on. Let's stop wasting time. Let's quit dickin' around like a couple of dicks, and let's get married. For real. Why should we get married? Great friggin' question. If I was a poet, I'd construct a sonnet detailing the reasons why. As it stands, I write for Cracked. So I made a list.
On Things We Have in Common: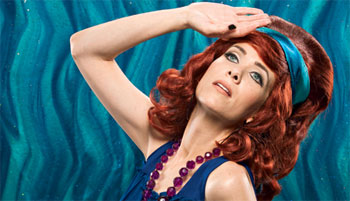 We have so much in common, Kristen Wiig, that it would be irresponsible of us
not
to get married. We're both moderately famous superstars, for one thing. You're a busy actress doing interviews in Entertainment Weekly, and I'm an influential and respected internet humorist, doing interviews in the
October 2008 issue of the Campus Free Press.
(
The Campus Free Press
is like
Time Magazine
, but for the internet.) I know the ups and downs of fame, Kristen Wiig. I can relate and connect on a level that you're average John Q. NotFamousOnTheInternet can't. Plus, we both like stealing. In an interview with David Letterman, you said that you moved out to LA after college and, because you didn't know the area, you illegally
ripped out a map of LA
from a phonebook, so you could get around. I
also
moved to LA right after I graduated and stole a bunch of things, (a colander from Target, 6 DVDs from Hollywood Video, and one cat from my neighbor), within a week of living here! Look at us. A couple of lawless pilgrims, we are.
* Oh, also, you like to get naked and roll around in leaves, apparently.
I do this in my backyard on a fairly regular basis. Consider this your formal invitation to join me. Marry me.