Daniel
will take care of it; you go ahead and take a nice bath, I already started running the water for you. And here, I poured you a glass of wine. Relax. You
earned
it. And by the time you get out of your bubble bath, the knots will be gone, thanks to my remarkably skilled hands! Marry me.
This could be our wedding cake topper.
On My Experience:
When I was like 14 or so I dated this chick named Caryn who was a lot like you in both behavior and appearance. I'm not trying to make you jealous or anything, I'm just saying that I'm already fairly well versed in dating someone that is sort of like you, so getting married to someone who
is
you should be a pretty seamless transition. Plenty of guys probably want to marry you, but I'd wager that I'm one of the few who has actual relevant experience on his resume'.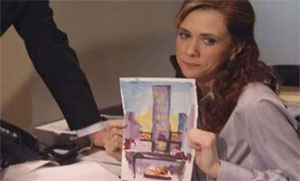 When Kristen dressed up as Pam, my dick's brain exploded.
Oh, and one other thing, just some ground rules. I am totally and uncompromisingly against having children, no matter what. I think babies are stupid, there are already too many people in the world, and I hate pregnant women, so I will
never
want to have children. ... Unless, of course, you want children, in which case I'll pump you so full of kids you won't know whether to build a crib or a warehouse, Kristen Wiig. *** So there it is, Kristen Wiig. You can leave your response in the comments below, or you can email me or you can just meet me at our wedding, this Sunday, (I think that'll be best). I invited all the Cracked readers, I hope that's cool. Also I'll be wearing a cape. Hugs and Kisses, Stars and Wishes, -Daniel.
* You also mentioned in that interview that you have a boyfriend. I'm choosing to ignore that, but only because I'm pretty sure you want me to.