I couldn't find any supporters of this theory willing to go on record; although someone in a related newsgroup did ask me to "STOP LEAKING BRAIN ZETA PROSPECTS OVER THE TORUS." Browsing said newsgroup though, it seems these people claim the Mayans were aware of the cycles of axial precession when they devised their calendar. They even point out the existence of Mayan symbols like the Hunab Ku, which depicts a spiral pattern that could be a galaxy, and the Kwantk Phnag sequence, which they claim to be a representation of the apocalypse. This sequence depicts the Hunab Ku lined up above a temple, where priest/astronomers watch as a large bear forcibly has sex with a man.
___
Nibiru Collision
This is where we find the real cask-strength crazy. Extra terrestrials have supposedly been sending zeta waves to receptive individuals on Earth, warning that a rogue planet called Nibiru would soon arrive in the solar system, wreaking havoc. Whether it collides with Earth or merely rips us apart via tidal forces is unknown, possibly because it's completely, completely made up.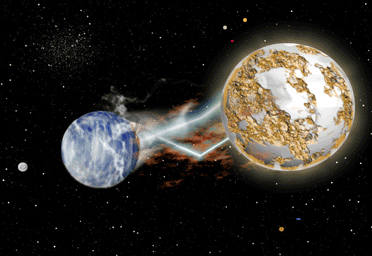 I traveled to the University of Portland, where I spoke with Dr. Jennifer Feits, who studies people who have claimed to be contacted by extra terrestrials. Feits explained how these stories become self reinforcing as they spread throughout the community. Susceptible individuals will hear a story, then realize/claim they had a similar experience themselves. Basically these people feed off each other, their shared fictions seeming to give further proof that there's some truth they're peering in on. In her research, Feits has gone to some length to isolate such individuals, to see if their stories matched up when kept independent of one another. And in all cases but one, they never did.
The anomalous story was an interesting one. Several people have all independently told a vivid story of a an emissary from Nibiru, who for all intents and purposes looked like a grizzly bear, and answers to the name Balon. Balon travels to Earth, where he randomly selects a representative for the planet. This one is described as a foolish and vain man with thin arms. During their meeting, the representative angers the great space bear with his terrible manners and sweaty neck. At this point the space bear vigorously molests the representative in front of the whole world's press and dignitaries. "Everyone felt very embarrassed for this pathetic figure," Dr. Feits said, looking at me curiously. "Apparently he did not comport himself very well, either as a representative of humankind, or even as a man. Lots of weeping and wailing," she concluded, grabbing one of my arms and squeezing it experimentally. After I wriggled out of her grasp, she continued her story with a shrug. "Anyways, after that Balon decides that the people of Earth are too pathetic to even be worth destroying. He returns to Nibiru and the planet continues on its way, leaving humanity alive and unharmed."
"And, uh, what happened to the Earth's representative?" I asked.
Dr. Feits looked at me blankly. "Who cares?"
____
As you can see, the threat of a disaster in the year 2012 is both real and too great to ignore. I encourage all loyal readers to donate thousands of dollars every day to the Prevent-Space-Bear-Rape-Fund, which will provide funding for protein shakes, free weights and Krav Maga lessons for the Earth's representative as soon as he steps forward, along with $45 massages for the administrator of the plan, who, until further notice, will be me.
___