So everybody, Thor: Ragnarok was awesome. The action was fun and Jeff Goldblum has never been Jeff Goldblumier. OK, thanks for reading. That's really all I needed to say. Article's over, go home.
But since there are a few hundred more words to be filled in, let's break down why Thor: Ragnarok was awesome. In fact, let's talk about why Marvel movies keep getting better. Because according to this nifty graph I made based on Rotten Tomatoes scores, that's super what's happening: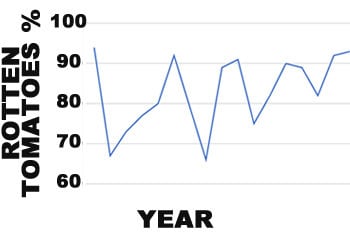 As you can see, Marvel has consistently had hits since they started making movies, but as time passed, their lower-ranked films slowly caught up with their higher-ranked ones. If you're wondering, the films that represent those valleys in quality were The Incredible Hulk, Iron Man 2, Thor 2, and Age Of Ultron (although you can hardly count any of these as critical failures).
So what is happening? What's behind the pattern? Well I'm glad I asked, because I have an answer: The lowest-rated films were all "filler" stories. Incredible Hulk was a necessary reboot of Ang Lee's attempt, and the other three were all part twos leading up to major explody events like The Avengers and the eventual Infinity War. We had already met all the characters, and so these films bought time so that the MCU could set up the inevitable hype films on the horizon. For that reason, the stories are pretty self-contained and therefore rather boring: the bad guy shows up, wants to blow up the world, and creates an army.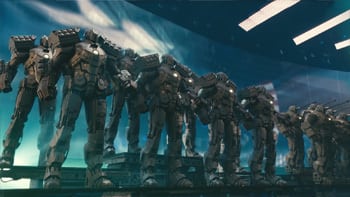 Marvel Studios
Marvel Studios
Marvel Studios"It may have not worked out for the first 23 bad guys, but Team Ultron is gonna make it happen, baby!"