Having a weird floppy tube hanging off me:
There was some concern that the Mars lander was malfunctioning
when people saw images of it and noticed a weird, loose tube flapping limply off the side of it. Oddly, this is the same concern I faced in similar circumstances the night of Junior Prom. But, unlike the Phoenix lander, whose "passive wind indicator" is nothing more than a dangling tube used to measure windspeed on Mars, my "active pleasure indicator" can measure windspeed, provide hours of entertainment, and, given the right environment, PRODUCE A FULLY-FORMED HUMAN BEING.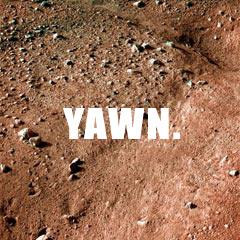 Existing in Space:
I'm doing it right now. You want to see me outside of an atmosphere? Fine, make it happen. I would no less exist there than I do here.
Functionally Existing in Space:
All right smart guy, you got me. Yes, I would instantly explode and freeze to death and burn or whatever. But let me ask you something. What costs more, a 420 million dollar space probe, or the cost of providing me with a motorcycle helmet and a few bottles of Oxygen pills? I rest my case. I am superior to the Mars probe, and far more affordable. NASA, you have my information (I was the guy you told to stop calling after I kept asking whether you'd found my Frisbee. And by the way, if you do find it, please let me know—it's orange. It's not even really mine is the thing.).
---
When not blogging for Cracked, Michael haughtily compares himself to objects in his house as head writer and co-founder of
Those Aren't Muskets!
More Blogs