In most romance stories, the central couple is kept apart by life circumstances, like the family feud in Romeo And Juliet or how Westley is too poor to marry Buttercup in The Princess Bride. Or there's a villain working against them, like the Duke in Moulin Rouge or Jafar in Aladdin. They want to have sex with the heroine, so they try to break up the couple.
In Fifty Shades Of Grey, the main conflict is the sex contract that Christian wants Anastasia to sign, which eventually breaks them up. From then on, the villains are all of the people Christian has already had sex with. The second film has two of Chrstian's exes as the main antagonists. One stalks Ana, and the other tries to convince her he will never really love her because she can't fulfill his crazy sexual desires (we'll get back to that in a moment). The third movie sees Ana kidnapped by a woman who is being blackmailed with a sex tape.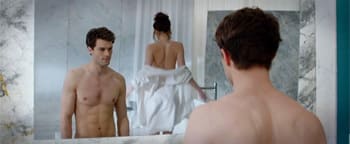 Universal PicturesLook at the havoc this poor man's dick has wreaked on his own life!
Meanwhile, Ana's Virginity Is Treated Like Magic
While Christian's romantic past is literally trying to kill him, Ana's is never a problem because she starts the series as a virgin. It's kind of her superpower. She's like Harry Potter, but instead of a scar she has a hymen. In the movies, Christian is amazed when she tells him she's never had sex.