Rez
.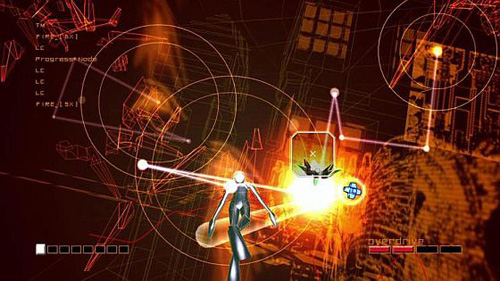 Rez
doesn't just stack up against a classical work of art; it succeeds above and beyond the classical work. It's just that there's a specific work it matches up with, not just "masterpieces" in general.
Rez
was inspired by the work of a Russian painter named Wassily Kandinsky. Artists create art for a reason: They have a goal or a message they're trying to convey, even if that message is not immediately apparent to them at the time. Kandinsky happened to know exactly why he created art. He said so on many occasions: He wanted to show how music and color crossed paths in his mind. Many psychologists now believe Kandinsky was probably suffering from a bizarre neurological condition called Synesthesia--he wasn't just talkin' art-queer when he said his paintbox "hissed" at him and cellos were "a deep blue"--his senses were literally crossed so that color had sound and sound had shape. He was often unhappy with his inability to express what was happening in his head. Even in painting, his friends and colleagues said he often seemed frustrated at the failure in communication.
"Fuckin'... fuck this thing! Purple is my jam; that's all I'm trying to say!"
As a game,
Rez
was not great fun--it was a rail-borne "shooter" where you didn't really "shoot" so much as select vast swathes of targets--but its presentation was brilliant.
Rez
inextricably tied the player's every action to the beat of the music, which changed and evolved along with your actions and play-style. The visuals, in turn, changed and evolved with the music. All of the senses in
Rez
crossed with one another, integrated into each other and bled into another in some way, shape or form. If Kandinsky painted to explain his Synesthesia to others,
Rez
actually let them experience a small portion of it.
Rez
shares a more complete Synesthetic experience than Kandinsky's paintings simply because of the player's involvement in it. For this one, particular arena, the less interactive medium (painting) is essentially crippled. That brings us back to the question: What is art? Is it the object produced or the experience shared? The former sounds more like consumerism to me, but the latter sounds about right. And if that's the case, I say
Rez
stands with Kandinsky's work any day.
...and possibly bashes its head in.
But why even bother with all of this? Ebert himself wonders: "Why are gamers so intensely concerned, anyway, that games be defined as art? Bobby Fischer, Michael Jordan and Dick Butkus never said they thought their games were an art form….Why aren't gamers content to play their games and simply enjoy themselves?" And he's already answered his own question: "do we as their consumers become more or less complex, thoughtful, insightful, witty, empathetic, intelligent, philosophical (and so on) by experiencing them?" Anybody who's ever felt even an inkling of something like that from a game is going to be understandably "concerned" when you insist that they're lying.
---
You can buy Robert's book, Everything is Going to Kill Everybody: The Terrifyingly Real Ways the World Wants You Dead, or find him on Twitter, Facebook and his own site, I Fight Robots or you can reconsider buying his book. It works miracles. This kid in Canada bought it, and now he speaks near-perfect English... practically overnight!