call
friend in the first place--so I'm going to try not to be insulting about this. I don't dislike Ebert for his stance, and I don't dismiss him automatically as being out of touch. I don't think he "doesn't get it" because he's too old; I think he's just too immersed in one medium to appreciate another. That happens all the time – you'll often find music aficionados with little appreciation for painting, or painters with no interest in novels. Age isn't an instant disqualification for appreciating innovation. Roger Ebert is a sharp, incisive and thoughtful man, and his many other opinions are not instantly rendered invalid simply because he's so full of s**t on this one that it's spraying out of his ears like one of those clown sprinkler-heads.
You know, with all due respect. First off, Ebert says that he's never seen a video game worth his time enough to play one. Sooo... this rebuttal doesn't really need to go any further, does it? Continuing this discussion is like setting a time and place for a structured philosophical debate on the importance of pacifism and restraint with a rabid badger: Your opponent is not only unqualified from the start, but it's obviously just out to attack you. With an opening salvo like "I've never played a game but here's a sweeping statement about them," you know that your pleas are going to go unheeded. You can have the greatest PowerPoint presentation in the world, but you're still leaving here with rabies.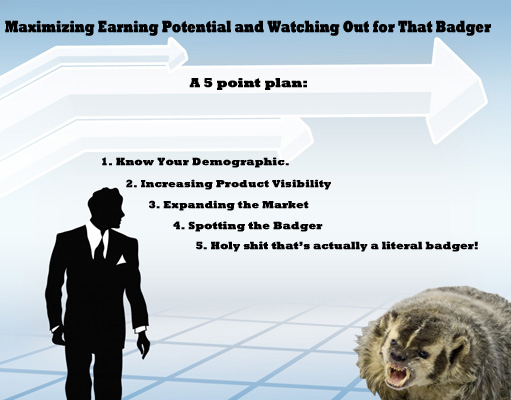 The next slide is a tutorial acronym for staunching the bloodflow from a severed femoral artery using only supplies you can find in your cubicle.
So how does Roger Ebert's rationale justify having such a severe opinion on something he freely admits to never experiencing? In his words, he understands video games thusly: "By the definition of the vast majority of games. They tend to involve (1) point and shoot in many variations and plotlines, (2) treasure or scavenger hunts, as in "Myst," and (3) player control of the outcome. I don't think these attributes have much to do with art; they have more in common with sports." I'll concede that point. Most games are more like entertainment than art, but condemning the few because of the many is faulty reasoning. By that same logic, my understanding is that the definition of movies is pornography. If you're factoring in Internet sites, amateur efforts and the vast machinery of constant orifice violation that I'm pretty sure most of California has turned into by this point, then pornography is the most prevalent use of film. Or if that example doesn't work for you: Movies are commercials. There are more commercials on television by sheer airtime than there are movies in the world, therefore that's what all film is. Would you take me seriously if I began a tirade against the value of cinema by stating that movies shouldn't be taken seriously because, by volume, most of them are surveillance recordings of parking lots, 7-11s and ATM Machines?