Sometimes, characters do find themselves in a society in which social trust is nonexistent and the world is all but lawless. They can be betrayed at any time and know that their betrayer will escape consequences. Then they immediately forget that.
Take Ned Stark, the Ned Flanders of Game Of Thrones. In Season 1, he comes off as a noble hero willing to fight for what is right, and we respect him for it. But why would being noble involve forgetting that other people aren't? Hell, the man himself took credit for defeating the greatest swordsman in Westeros, when in reality his friend stabbed the dude in the back. He knows that self-serving lies are a thing!
HBO"And lo, his final words were: 'Ned, in addition to being better swordsman, you have a much larger penis than mine. Not just in length, but girth too.'"
Yet he still signs his own death warrant by warning the queen that he knows she committed incest, and then he puts his trust in Littlefinger, a man whose only personality trait is being sleazy. It's an environment in which Ned knows there is no greater authority he can appeal to for justice. He has lived and functioned in that system his whole life, and he knows that imprisoning/killing him solves the bad guys' problem.
Then you have the even stranger case of Roose Bolton, a villainous character who broke his sacred vows and murdered his King ... but didn't anticipate his own clearly psychopathic son stabbing him in the gut when he announced that said son may no longer be his rightful heir. Again, this is a universe in which murder is a great way to solve problems, but one character after another expresses total shock and surprise the moment they feel the blade enter their liver.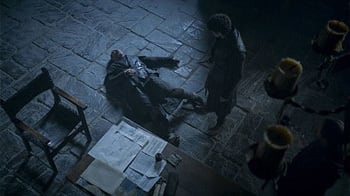 HBO"You said, 'No stabbsies, no take-backs' ... You pinky-swore ..."
It's not only a GOT thing, though. I cannot feel sorry for Selina Kyle in Batman Returns, who confronts her boss (Christopher Walken) about all the illegal shit he's done. Alone, without any witnesses. Christ, she all but threw herself out of that window. She lives in the world of Tim Burton's Batman, for God's sake, which is essentially what happens when a homeless clown has PCP-induced nightmares in an abandoned comic book shop.
Then there are the worlds of Elysium and Equilibrium -- equally dark, oppressive dystopias where hope is but a half-remembered drunken memory. And yet in both movies, you have scenes of the villains taunting trained killers, calling them dumb and somehow expecting them to ... not murder them in the face? Spoiler alert (but not really): They totally do.
Come on, people. You live in a terrifying universe in which nothing you see or say can be trusted. You don't see us forgetting that shit, do you?
Jeez, it's not like this is the kind of stuff you have to write down in a day planner.
Support Cracked's journalism with a visit to our Contribution Page. Please and thank you.
For more forgetful characters, check out 6 Things Movie Characters Always Seem to Forget and 6 Characters Who Forget They Have Powers That Solve The Plot.
Don't forget to follow us on Facebook.