Not long ago, Ryan Vance over at Revision3 Internet Television generously extended Conan O'Brien an offer to create shows for his site once Conan's Tonight Show contract ran out. He offered some pretty impressive perks, ("Complimentary broadband"? How the hell are we supposed to compete with that?), but I still think I can make some aggressive offers myself. But first, we need to talk about why you need to get out of TV in the first place.
The Tonight Show Kind of Blows Now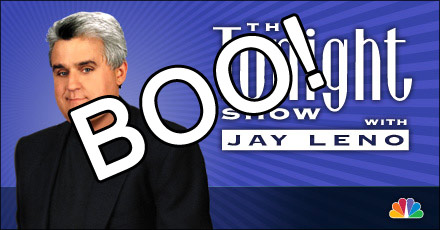 You should know that it wasn't always easy for me to say "The Tonight Show blows." Immediately after word of your shit-canning hit the Web, I felt pretty terrible for you, because you were an idol of mine growing up, and as a rule, I hate seeing my idols either a) upset or b) stolen by Alfred Molina. In this case, it was a), so I was pretty unhappy for you. Then, Cracked Editor-in-Pants Jack O'Brien (we call him that because he's the only one who wears them), reminded me that The Tonight Show is sort of pointless, these days. I recognize and respect what it once stood for but, as far as an enjoyable program, it falls short and it's been falling short for years. I've only really enjoyed it these last two weeks, when you stopped giving a shit, and that's hardly standard of a Tonight Show performance, right? Normally it's all "Teri Hatcher's going to talk about some bullshit followed by a performance by Everclear, everybody, what do you think of that?"
Who would want to watch that?
As is often the case, Louis CK probably said it best when he said "I don't know why Conan would want to host 'The Tonight Show,' [which] is just this old, shitty thing. Let Jay have it." He's right, Conan. The Tonight Show isn't to young comedians today what it was to you when you were growing up. It's just some awful Jay Leno show. It's changed. TV has changed, you can be doing so much better. I'm actually thrilled that you won't be hosting the Tonight Show anymore. It means you will no longer be chained to the desk, and you're free to work on anything. The past was "Conan doing The Tonight Show. The future is "Conan doing whatever he wants." And what embodies that kind of freedom better than anything else? The Internet. That Louis CK interview cuts off not long after that quote, but I'm almost positive CK would have said "And Conan should go work for Cracked.com instead," I can just feel it.