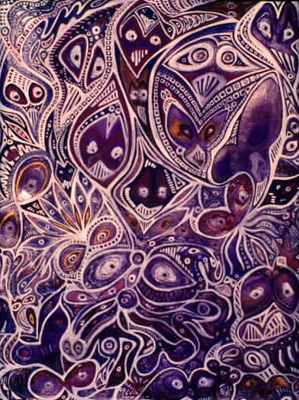 Pictured: How I see most editorial meetings.
She sighed with disgust and led my impotent, hallucinating mess of a body from office to office in her fevered search for Ross. She asked Bucholz, but she couldn't decipher that gibberish language he calls 'Canadian English.' She interrogated and beat Swaim half to death before she realized that he liked it. We left him bleeding on the floor, still insisting that he pay her for the "best afternoon of his life." DOB's office was empty – well, empty of people, anyway. It was filled to the brim with hastily sketched cartoon pornography and empty bottles of Mad Dog 20/20. We thought we heard a gentle sobbing, and saw a slight shift in one of the debris piles, but I guess she didn't have the heart to check. Finally, we arrived at Jack's door. "Have you ever watched the colors bleed?" I asked her, "Do you…d'you think it hurts?" "SHUT UP," She cried, pistol-whipping me in the back of the head, "O'Brien! Open up, if you value the life of your employees!" "I don't!" Came the muffled response, "but you sound hot. So I'll bite." The door slid open almost silently, and Jack stood there in all of his royal affluence; his purple and gold robe billowing in the breeze from his platinum wind machine. "What do you want, lady? You're interrupting 'Jack's Rock Hour,' and unless you're down for posing splay-legged on a white corvette, I got no use for you." He sipped from his golden skull-engraved chalice, and flashed some horns at nothing in particular.
3PM - 4PM. DO NOT DISTURB UNLESS YOU ARE PREPARED TO ROCK.
"I want to know what you motherfuckers did with Wolinsky! There was nothing! No explanation! No goodbye! Just this jabbering dickhead and his retarded Cracked fan fiction!" She screamed, shaking me. The wound on the back of my head throbbed with every syllable. The pain felt like…what? Like a C-sharp. That was it! Pain was definitely a C-sharp. So what does that make the feeling of my fingers touching each other? That feels like an E-minor, I thought, and I set about intently listening to the song of my physical body. Then I realized that 10 minutes had passed, and something was in the middle of happening. The girl sat on the edge of Jack's desk - glaring seductively at me with all of her sexy hate - while Jack screamed into the intercom. "Penny, any word from Wolinsky? We've an interested party up here that has brought up something quite...interesting. That was poor word choice, I know, but tell me: Has Wolinsky been in his office at all in the last few months?" Penny is our secretary downstairs. She's always had a thing for me, I recalled. General disgust is a thing, right? "No sir, not since December. We sent an intern, Ted, to check up there, but when the elevator came back down there was only a doll that bore a strange resemblance to Ted lying on the floor. I felt compelled to take it home, and put it in my kid's bedroom. Every night since she dreams of a young man crying in a vast white void, she says that…" "Penny, goddamn it! If I wanted your life story, I'd watch the Lifetime Network Movie of the Week about it, where you'd probably be undervalued by your children, and an abusive husband would beat you. I will be that husband Penny, do you understand?! So keep your damn answers to the point. Nobody's seen Wolinsky, correct?" I thought that Jack was making a move towards the girl's gun while she was distracted by my sudden, inexplicable gyrating, but he was just refilling his skull chalice with that special mix of bourbon and Kool-Aid that he calls 'Jack Juice.'