I first picked up on this at the booth for a company named Onanoff. The company owner, Petur Olafsson, was giving me his standard product pitch when a Chinese man with a camera crept up to the booth and started taking very close-up photos of a speaker case Petur designed for the iPad Air.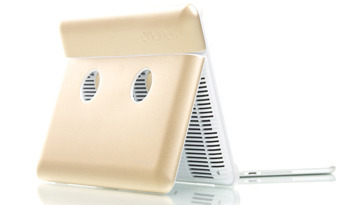 Onanoff
"Blasphemy! If your iPad was meant to have a kickstand, God -- er, Steve Jobs would have put one on it!"
Petur got pissed, and shooed this iPhone-wielding James Bond away. He explained that this was not an isolated incident. Similar men had been coming up to his booth all trade-show long, taking detailed pictures and then scampering off, like some kind of weird electronics-based sexual predators. Their badges identified them as "Exhibitors" and not "Press," and none of them ever asked him questions about his mechanical baby. It was clear to Petur that they meant to steal his brainchild.
"You put three years of your life into a product, and they rip you off."
Ridofranz/iStock/Getty Images
While you studied engineering, like a dipshit.
This set the Journalism Lobe of my brain a-tinglin', something that doesn't generally happen without a pint of hard liquor or a good solid ether binge. My camerawoman/fiance Magenta in tow, I set off down the little strip of booths nearest to the convention hall designated for Chinese exhibitors. My goal was to find anyone else who'd had a product abducted at CES.
It took about two minutes.