DAN: All right. Let's saddle up. __ EXT. ROCKEFELLER MILITARY RESEARCH CENTER - NIGHT A dark and rainy night. RORSCHACH breaks in to visit his old friends. INT. ROCKEFELLER MILITARY RESEARCH CENTER - NIGHT A brightly lit research laboratory. Large machines do science in the background. Rorschach walks around a corner.
DR. MANHATTAN: Hello, Rorschach. RORSCHACH looks up to see DR. MANHATTAN, two stories tall, wearing nothing but a towel.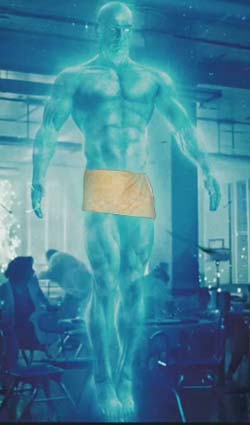 __ INT. WATCHMAN HEADQUARTERS - NIGHT A parlor with enormous padded chairs gathered around a large easel. SILK SPECTRE II, NITE OWL II, RORSCHACH, OZYMANDIAS, DR. MANHATTAN and CHESTER are there. OZYMANDIAS gestures at the easel, looking pensive.
OZYMANDIAS: We'll split up into two groups. Doc, you and Laurie will fly into Afghanistan and fight the Russians there. Myself, Nite Owl and Rorschach will search for clues in the sewers of Paris.
CHESTER: What about me? You can't leave me behind again!
NITE OWL II: You're too young Chester. This isn't kid's stuff.
CHESTER: But I'm not a kid any more. CHESTER runs at a wall, getting two full paces up it before doing a back flip. He lands on his feet, and makes a complicated movement with his arms that looks martial artsy. OZYMANDIAS watches, stroking his chin.
OZYMANDIAS: We could use the help...
DR. MANHATTAN: Agreed. Chester will make a fine addition to our force. DR. MANHATTAN wiggles his nose. A costume appears on CHESTER. He is now TEEN NITE OWL. TEEN SILK SPECTRE enters and sees TEEN NITE OWL.
TEEN SILK SPECTRE: Congratulations little brother! SILK SPECTRE II glares at DR. MANHATTAN, who is staring at TEEN SILK SPECTRE. An erection is clearly visible in the loose gym shorts he's wearing. __ EXT. MOLOCH'S APARTMENT - NIGHT RORSCHACH comes crashing through the second story window of MOLOCH's apartment. He is immediately set upon by half a dozen police officers, who manage to take him to the ground after an intense struggle. They tear off the mask, to reveal GARY COLEMAN's face, straining with anger. __
EXT. BUSY FREEWAY - DAY SILK SPECTRE II lands atop the moving tractor trailer with balletic grace. Behind her, DRAGO flexes his muscles. They fight, a hyperkinetic ballet of devastating punches and barely parried kicks. CUT TO - NITE OWL II, flying ARCHIE along the highway, zooming along beneath overpasses, rubbing cars out of the way. Two bright red CYBORGS trail behind him on motorcycles, scattering bullets wildly at him.