Awesome Video Of The Day
Pretty Much The Coolest Fucking Thing I've Ever Seen In My Life
Not long ago, virtual reality wasn't really much of a reality at all (unless you had access to a
CAVE
or were watching
The Lawnmower Man
). We've come a long way since then, and now some guy named Johnny Lee has figured out a way to turn a regular TV and a Wiimote into, like, the coolest thing of all time. It would be pretty easy to make fun of this guy for being kind of a dork, but you know what? He's like a thousand times smarter than I am, and while I'm sitting here making dick jokes and snarky little remarks, he's furiously coding some awesome new program that will one day produce amazing new video games that I, the retard consumer, will then purchase. Then I'll be staring at my TV with infrared lights strapped to my glasses, ducking and weaving around the living room like "whoaaaa." Then my girlfriend will walk in and be like "you look like a fucking dork." Hubris sucks.
---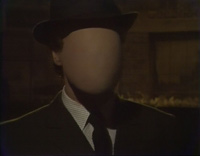 (Yet Another) Wildcard Week!!!
How To Disappear In America Without A Trace
Like most people, I spend the overwhelming majority of my waking hours thinking about the best way to quickly erase my identity if I commit (or am accused of committing) some sort of heinous crime. I never write any of my plans down, though, which is why I was relieved when I found out that some guy had taken the time to address this important matter...