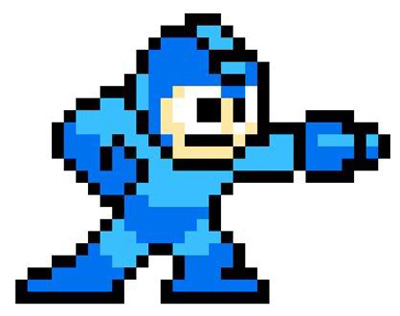 Its facial features are roughly 70 percent eyes. Being a visually oriented hunter, this is clearly a valuable asset. We can also see the relative size of the mouth is greatly exaggerated. This suggests the Mega Man robot was likely powered on some sort of bioreactor, where the gaping mouth would allow the maximum flexibility in consuming energy sources. Look at the size of the energy containers, for example: They are roughly the width of his entire body. In order to consume power-ups like these, the Mega Man must have had the ability to unhinge its jaw, much like a snake, to accommodate the largest possible energy refills.
Please try to avoid picturing Mega Man deep-throating this.
The non-gun hand is often interpreted as a balled fist, but another quick glance at the sprite itself will quickly disprove this theory: The "hand" in question is clearly a tapering shape that bends up and forward, reaching out from the forearm. This "hand" is probably something akin to a lobster-like fleshy claw in actuality. This makes design sense as well, as it would be ideal for crude grappling, and capable of the crushing force a hunter/killer robot would need to pierce armor plating. By looking at the original sprite, one can also see that he apparently has a floppy blue dong on his helmet. The relevance of this last fact is debatable, but just try to unsee it.