On September 14, 2009, the world lost Patrick Swayze. During his 30-year acting career, he played the role of a Commie-killing high school football player, dancer, Civil War soldier, bouncer, surfing bank robber, ghost, transvestite, trucker, Allan Quartermain, singing cartoon dog and pedophile. To put that kind of versatility into perspective, fellow actor Steven Segal has starred in 417 movies and played a Steven Segal 417 times. Steven Segal couldn't play a pedophile if he was a pedophile. Patrick Swayze was a musician with a top 10 hit and
People Magazine
's Sexiest Man Alive in 1991. This was back before they gave it to Ben Affleck and the award
meant something
. But what a lot of people don't realize is that Swayze was also the Second Greatest Film Star of All Time, and not in any kind of subjective way-- it's basic science. Almost every movie he starred in was the second best of a particular genre. Let's look at the facts: Before we begin, cut out and wear your
3-D SwayzeVision Goggles
. My manufacturer had some problems processing my last minute order, but luckily 3-D SwayzeVision Goggles should be compatible with the Official Jean-Claude Van Damme Data Decoding Funglasses you already own.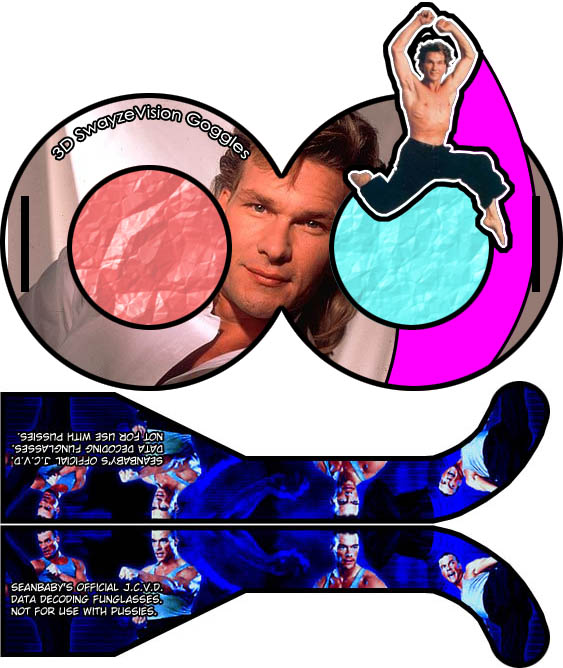 Calibrate your 3-D SwayzeVision Goggles now.
Turn up the Road House settings of your 3-D SwayzeVision Goggles until you can clearly see the image below.
Swayze starred in...
The Second Best Dancing Movie of All Time: Dirty Dancing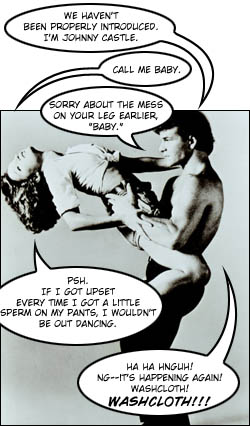 We owe a lot to
Dirty Dancing
. It was a runaway hit that changed the way people communicated with the language of dance. After this movie came out, the phrase, "Excuse me, would you care to dance," could be substituted with approaching a woman and intensely rubbing your dick against her leg. I skipped a lot of health classes, but that's win/win for everybody, right?