What was the #1 dance movie? Footloose
Even though Patrick Swayze and
Dirty Dancing
made premature ejaculation into a cute icebreaker,
Footloose
is still a better movie. It was about a town that tried to preserve its moral structure by outlawing dance. If you were on the city council of the
Footloose
town, your eyeballs couldn't even register how filthy
Dirty Dancing
is. It would just look like a teen ovary being attacked by dildos and robots. Adjust your 3-D SwayzeVision Goggles to see a scene from
Dirty Dancing
as the characters from
Footloose
do.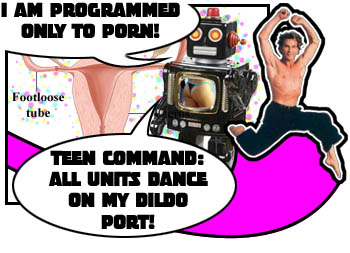 Swayze starred in...
The Second Best Cold War Movie of all Time: Red Dawn
Like everyone who was a kid in 1984, my parents were paranoid gun owners--positive that any day now, the Russians were going to paradrop into our backyard. Back then, people used to fantasize about Soviet invasions like people fantasize about zombie apocalypses today. And
Red Dawn
was like every fantasy come true. If my parents hadn't kept me so busy reloading spent bullet cartridges, I could have practically masturbated to it. It was about Soviets and Cubans invading Colorado and getting all their Communist s**t fucked up by Swayze and a group of high school guerrilla fighters. They even called themselves Wolverines just so they'd have something awesome to scream after they killed Spetsnaz commandos. Between the years of 1984 to 1986, the farm belt went ahead and replaced all crop-generating fields with dick measuring stations because America could live entirely on
Red Dawn
.
What was the #1 Cold War movie? Rocky IV