Nowadays, everybody is an amateur photographer, which means the bar to become professional is that much higher. What we're saying is, no one is going to hang your blown-out Instas in MoMA, unless you can convince Richard Prince to paint them for you. To use #nofilter unironically and snag a freelance gig as a wedding or portrait photographer, you're going to have to learn about light, composition, post-production, and how to use a camera that isn't attached to a selfie stick. Fortunately for you, this course bundle teaches you all the tricks and just the right amount of theory. Pick up this photography masterclass for $20.
Design & Animation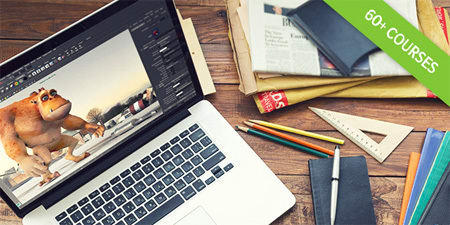 People don't usually get jobs watching cartoons, but they sure as hell can get paid to make them! Sadly, it's a little more complex than in the halcyon days of Steamboat Willie and Edweard Muybridge's old-fangled zoopraxiscope. There's a lot more 3D rendering, Bezier curves, and motion tweening to deal with. Those concepts may sound like daunting mumbo-jumbo now, but it's just a matter of going through the process. Hell, even Harry Potter had to learn the terminology before casting spells. You could learn it all by getting an expensive degree from CalArts, or you could grab this design and animation course bundle for $29.
Videography
Since video is just taking a bunch of pictures really quickly, it should be pretty easy, right? Tell that to Scorsese. Making trashy YouTube poop might not require much more than a phone and an ego, but creating a shot that elicits actual emotion requires a host of camera techniques, directorial vision, and precise cutting. That and maybe a background track by Sarah McLachlan. This videography boot camp will teach you everything from flying drone cinematography to green screen editing and so much more. Get it here for $39.