Mario Kart
race.
But when you think about it, there were signs.
Ecco the Dolphin
for one. Then there's E3, the world's biggest gaming conference, which recently shut its doors to the public. In retrospect, we can only assume it was because the influx of female gamers caused so much flop sweat that their cleaning bills became untenable. That and the fact that they had to install a women's restroom. And of course there's
The Sims
. Come on. A game where you raise a family, hold down a decent job, and sex only lasts fifteen seconds? A woman's world if ever there was one. The only concession they made to the male perspective was the fact that your wife speaks in unintelligible gibberish. But for better or worse, the times they are a-changing. The lady gamers of the world have kicked in the bedroom door and demand to be heard. No more Samus Aran masturbatory aides at the end of
Metroid
games unless there's an equally arousing shot of Sonic at the ends of
his
games (which I'm sure Tails would be totally fine with).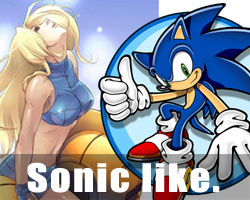 And from now on, expect every booth babe you encounter to be accompanied by at least one oiled-up Chippendale's dancer dressed as Wakka from
FFX
. I blame
Barbie and the Magic Pegasus
. But, hey, more power to you, ladies. I don't understand you or your mysterious nurturing instinct, but welcome aboard. Grab a Halo-branded can of Mountain Dew, a Yoshi Fruit Roll-Up, and a Dreamcast controller. It's on. And in the meantime, I've decided that it might be worthwhile for the Cracked Blog to stop neglecting the penis-disabled portion of its audience as well. After all, for all we know, forty percent of