Gary Coleman. Funny in
Diff'rent Strokes
, kind of funny ten years later, no longer funny. Not only has his cachet as a public figure been used up; using him just seems like you're a creepy old guy trying to "get in with the kids." In fact, now that I think about it…David Zucker, Leslie Neilson, David Allen Grier…this would have been an all star cast in 1987! So you're doing something right, just two decades late. If you want to get in with today's kids, you're going to need to update some of the cast and references. This is based on
A Christmas Carol
, right? Maybe Seth McFarlane could voice the ghost of Marley, and General Patton could be Patton Oswalt, smoking weed and grinding on a skateboard. If you really want some credibility with the youth, put some of the muppets in the background of a scene, maybe chatting with Perez Hilton or logging onto BoingBoing. 3.
Kevin Farley? As in, Chris Farley's brother? You're practically
declaring
your movie a rental. Only straight-to-DVD teen comedies and desperate money grabs feature the siblings of deceased stars as their lead. My advice would be to CG him out and replace him with someone more relevant, like a Robin Williams or Don Cheadle. 4.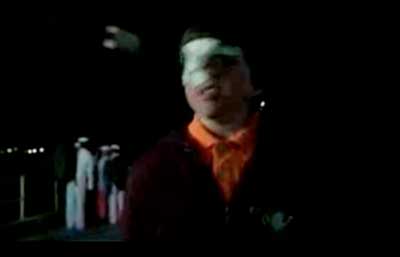 I know this is a Zucker comedy, but the fake sound of someone getting hit over and over stopped being funny after Bob Terwilliger and a rake perfected the art. Try to branch out into some of the other well-plowed areas of comedy, like fart sounds, penis references, and someone accidentally eating or rubbing themselves with semen. 5.
Here, you have a country singer perform a song about America being the greatest country in the world while pyrotechnics explode behind him and then…that's it. It's the only scene in the trailer that doesn't have a joke in it. I have taken that to mean that you think this is a good idea, or somehow not deserving of mockery. Well done. I couldn't agree more. This is the highlight of the trailer. 6.
JAMES WOODS?! WHAT THE FUCK?! WHAT THE FUCK DID YOU DO TO HIM YOU BASTARDS?! WHY JAMES, WHY?! So welcome, conservatives, to the big leagues of comedy. Though today you make fumbling, toddler-like steps in the general direction of a joke, tomorrow you may very well produce satire so cutting, so incisive, that it will convince conservatives to vote conservatively. Now if you'll excuse me, I have to go watch Stephen Colbert sleep through a Neil Peart solo and thereby open the Mexican border.
---