The Cleveland that had been hard-pressed into our memories had been effectively decimated. We were trying to navigate streets where we knew we'd parked for baseball games or field trips as kids, only to find giant metal fences obscuring everything, protected by everything from plainclothes officers to the National Guard. Cleveland is a surprisingly good city for walking from place to place, but the openness and friendliness we knew were gone. Statues of ballplayers from our childhoods look like they're stuck in deliberately s****y batting cages.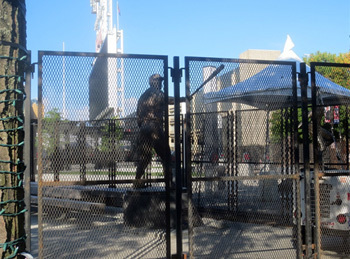 Cracked.com
Which is sadly the perfect symbolism for Cleveland baseball.
It's hard to explain exactly how jarring this is, but we do have to hand it to Cleveland: They invested a lot of time, energy, and money into making sure that the city looks presentable for this convention. Public Square has been nicely refinished, some buildings got a bit of a facelift, and several roads seem to have been repaved. The problem is that some parts of the city were apparently cleaned up by nine-year-olds who throw things under the bed. There are alleys we never noticed before which now look like Thomas and Martha Wayne could have been shot in them. To top it all off, enormous temporary labels have been slapped onto buildings that will mean nothing a week from now.
Cracked.com
We can't wait to read the Yelp reviews of this place.