Outside of the RNC Zone (which sounds like a great name for a building-sized bouncy house) was the same Cleveland that normally goes ignored -- potholes, poor roads, and trash floating around like an unplanned Christo piece.
Cracked.com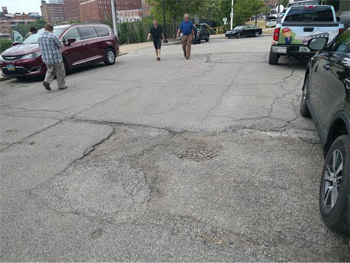 Cracked.com
Welcome to Cleveland.
There's Got To Be A Propaganda Minister Somewhere
We documented this on the Cracked Snapchat while we were walking around, but all over the place are signs promoting Ohio as a place that maybe isn't so bad after all. We're sure these signs look great to out-of-towners, but we weren't fooled for a second. The first one of these we noticed was the least-believable, and we immediately didn't trust a single one thereafter.
Cracked.com
Go on. Get those giggles out of your system.
There are serial killers who have told less boldfaced lies to law enforcement. A very cursory googling won't even let Ohio crack the top 10. And then, because we're both internet writers by trade, we couldn't help but groan at this next one.
Cracked.com