Duck to the Future
? Is that a pun? You can't change the first letter AND the vowel sound in a pun. You might as well call it Magical to the Duck Trick-uture. Plus, what's wrong with Quack to the Future? That only took me 15 seconds to come up with, and I'm not even a h**o. Did this guy decide to kill ducks on stage after he lost his job as a birthday card writer? Third, he straight-up blows it. In what must be the easiest trick ever conceived, he puts the duck into a box under a cannon, sets off a crappy bomb, then clumsily knocks the lock off the box. So by the time he walks across to the duck look-alike, the first one escapes, unimpressively still in the proper dimension. I never thought I'd say this, but I hope he's having sex with these ducks, just so all of this isn't a huge waste of their time.
To add insult to failure, it cuts to crowd shots of black people laughing at him. As a cultured reader, you of course know that black people calmly remaining near you is the international sign that you're a s****y, s****y sorcerer. And I don't even know what you call it if one of them is so unterrified that he then picks his nose.
YouTube - Prepare your soul for Duck Cannon
9.
Ankar Judge
X-Factor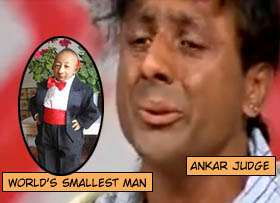 X-Factor
is a singing competition in the U.K. that allows nutbars of all ages to try out. One of those nutbars is Ankar Judge, part-time singer and full-size World's Shortest Man. He, in his own words, is as good as Michael Jackson, Daniel Bedingfield and George Michael. And there's one thing you can count on when someone says something like that--it's never not true. Ankar performs "What About Us?" the song Michael Jackson wrote to make "Heal the World" sound more death metal. God rest Michael's soul, his song "What About Us?" would have to grow 50 mustaches just to be considered tough enough for a breast pump commercial. Ankar Judge spent years studying the sounds of two-year-olds dropping their ice cream, and has incorporated this into his music flawlessly. He sounds like a chipmunk's vagina blowing its nose, and 80 percent of the lyrics is whine. Then, without warning or reason, he starts muttering to himself and jogs backwards to throw himself into the