However, from the beginning, the biggest question that loomed over it was "OK, Norman offs his mother as a young adult, but he's 17 now. How do we kill time?" And the show, pounding its chest, yelled "SMALL-TOWN DRUG AND PROSTITUTION SUBPLOTS." It's hard to comprehend misjudging your audience so badly that you make the opening episodes of your Psycho prequel about Norman Bates discovering pot plants in his neighborhood. It's like being unable to enjoy Star Wars because you're too busy wondering where Obi-Wan gets his groceries.
Five seasons isn't that bad, but this is the kind of stuff that happens when you're not exactly sure how you're supposed to fill your time. It happens with The Walking Dead every season. I don't think I'm being hyperbolic when I say that The Walking Dead is probably going to outlast us all. Whole societies will crumble and fall, and the only thing to remain untouched by time will be "PREVIOUSLY ON THE WALKING DEAD ..." This means that The Walking Dead has way more time than it knows what to do with. In any other show, important storylines would be handled promptly, because they worry about money and time and viewership. But The Walking Dead swaggers around like a college kid that doesn't care about when he gets to class. "Why rush, motherfuckers? We're already getting a Season 12."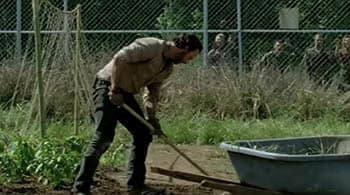 AMC
"Extended gardening montage? Why not? We're on the air until 2025."