that was not a fucking idiom
. If I don't see a door that properly proclaims my status and fondly remember a delicious and nutritious breakfast the next time I turn around, I am going to make you live under your desk for a week."
He turned.
'Geoff Chaser: Studio Executive, Power Everything, God Amongst Men ...' the plaque began, and continued on in that fashion for several lines.
He belched, and tasted the sickly tang of syrup, felt the heaviness of batter in his gut.
"Pancakes. You devious cunt. I'll allow you a hotplate, but no blankets. One week, Janice!" He exclaimed over his shoulder, as he stomped back into his office, "and I don't mean a business week, you got me!?"
"Desk housing?" Chaz Blazer, elite Hollywood agent and Hot Bushido enthusiast, inquired casually.
"Bitch masters time travel and still can't work a waffle iron," Geoff explained, flopping exhaustedly into his chair. He swiveled it to face the stranger.
"Who the fuck are you, and should I make you a star, or skin you like a grape?" He asked the man.
The stranger stammered, and started frantically rifling through a ream of papers.
"GRAPE!" Geoff screamed, pulling the combat knife from where he'd left it -- stabbed upright into the dead center of his massive oaken desk.
"I named it 'Constructive Criticism.' It's amazing: Most writers actually ask to be stabbed with it."
The man yelped pathetically, and flinched. A tiny hat, no bigger than a doll's, rolled from his head and across the floor.
"Baby! Sugar! Pork Cracklins! No!" Chaz held his hands up plaintively, "this is my nephew, Ethan Blazer, remember? He's been in this meeting for what, an hour now?"
"Um, forty-six, actually," Ethan answered timidly.
"Time jumps!" Geoff swore vehemently. He pressed the button for his intercom. "Janice! I hope you had fun on your little excursion, because now we've got the fabric of time fraying thin in here! I'll be docking the days we skip from your vacation time, I'll have you know. CHRONOLOGY IS LOSING RELEVANCE, JANICE!"
"I think it's the Methamphetamine Luge, actually," Chaz said, gesturing to the carved ice pipe melting quietly in the corner. The stack of cloudy chips in the bowl on top was getting dangerously low.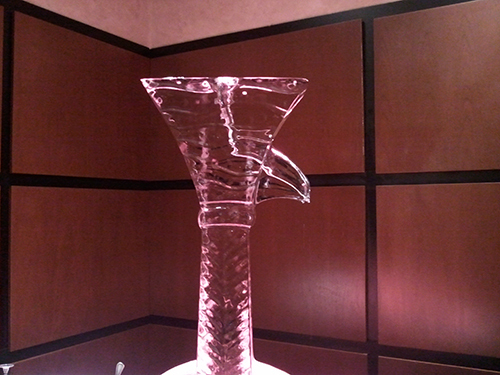 "Now that's what I call ice! Hahaha but no seriously, I'll suck your dick for a rock."
"We'll see about that," Geoff narrowed his eyes at Ethan, "what's this so-called 'meeting' about, then?"
Ethan Blazer cleared his throat, shuffled his script, and picked up where he'd left off.
"Bailey: Charlie, please. It's me, baby, it's Bailey. Charlie, Charlie I need you to open your eyes. You're just sleeping, baby. You're just tired is all. You ain't hurt. You ain't! It's just been a long shift at the mill, baby - that's all that happened to you. And I know it feels worse, but it ain't, okay? You're not gonna die, Charlie! You can't die, baby! You gotta pick Maxy up from practice. You gotta open your eyes!"
"No no no, god damn it, if we wanted to hear dialogue we'd hire those Filipinos to knife fight for us again," Geoff waved his hand dismissively.
"Tagalog," Chaz corrected, then turned to Ethan: "Give us the gist."
Man, if there's something Filipinos do better than knife-fight, I'm kind of scared to know about it.
"Gist me you poncey little son of a bitch!" Geoff hollered.
"Poncey? Nice. Classy. Got a flavor to it, kind of oakey on the fore-tongue," Chaz pondered it, rolling the insult around in his mouth and spitting it, along with a not-insignificant amount of actual saliva, into Ethan's face.
"Good, right?" Geoff smiled. "British, I think. Finishes strong, but smooth, and pairs well with lineage-based epithets - your 'whore mothers,' your 'bastard fathers,' your 'slut ancestors,' and so forth."
Ethan interjected forcefully: "It's the story of Charlie Kenton, an old-school, washed-up boxer who's finding himself lost in this era of Mixed Martial Arts and glorified ultra-violence. Charlie's not a good guy, but he's trying to be. This is the story of his comeback, but moreover, it's the story of how he reconnects with his estranged son, Max."
"Sounds like