---
Yes, you read that thrilling dramatization right: The man whose range is so limited that 90 percent of the characters he plays could shop at the same black trenchcoat store has been earmarked to play a both sides of a split personality.
It's an onscreen interaction that I'm betting will be a little less Smeagle/Gollum and a little more Neo/Neo with angry eyebrows drawn on. In fact, I think it's safe to assume that the only personality combinations he can realistically bring to the role are:
Stoic savior of the human race/Retarded 80s stoner
Retarded 80s stoner/Unbelievable romantic lead
Unbelievable romantic lead/Stoic savior of the human race
I'm hoping he goes with the first one, so we can watch Dr. Jekyll wage a grim fight against Mr. Hyde's quest to invent Cheetos, thrash on the 19th century equivalent of an electric bass (which I believe would be the steam-bassoon) and hassle Tchaikovsky. Plus the constant switch between a black duster and bright neon shorts is probably the only way the audience will know which character he's supposed to be playing at any given time. Keanu, if you're reading this, don't panic. I've got some simple, quick fixes that will help you give the impression of being able to play two whole characters, without actually going to all the fuss of doing so.
First, try some thick accents. No one's going to confuse your Jekyll and Hyde if Jekyll introduces himself as a "man uh da sciences, eh?" and Hyde vows to "shtop at nosink!" Yes, it's borderline racist, but if you settle for your usual caliber of performance, you risk offending facial paralysis victims everywhere. If that doesn't do the trick, give Hyde a thin black mustache. It'll make him seem a lot more evil, and it's easier to explain how a man can grow and ungrow facial hair throughout a movie than to explain how in the hell the producers thought you were a good choice for this role. Of course, there's also the "method" route. "Method" is a fancy actor word for actually doing whatever your character is supposed to do. So if you're playing a crackhead, smoke some crack. It's like cheating for actors. I guess what I'm saying is that you should try to invent a serum that turns you into a monster. Difficult, yes, but much easier than… well, you know. And if all else fails, there's always subtitles.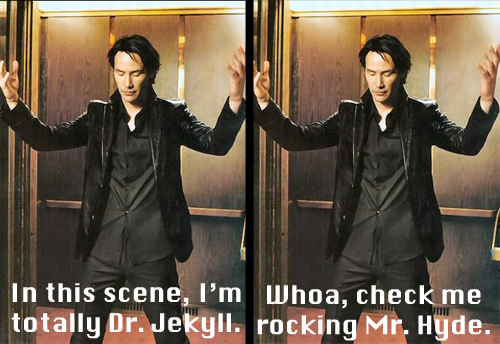 Oh and hey, Keanu, while I've got your attention: SPIKE?! You're playing fucking
SPIKE SPIEGEL
?! How DARE you! Get the hell away from
Bebop
! Or better yet, go method: Hurl yourself into space.
---
When not writing less and less frequently for Cracked, Michael is working on a number of all-consuming secret projects, so please stop messaging him and calling him lazy, you fuckers. Also,
Those Aren't Muskets!