It's not exactly surprising that the Wii has had very little triple-A games released for it. Three years ago, absolutely no-one in the industry expected the Wii to be a success, most predicting the exact opposite. And seeing as it takes around three years to make a high end game, that's a pretty good explanation why the Wii's cupboard remains so bare. Not that that makes it suck any less to be a Wii owner. __ So what do I want? I mean, other than to bitch and complain that is. Let's start with: A decent first person shooter. A racing game without blue shells. A game where you can swing around a lightsaber and it is
awesome.
And what are the odds of getting those? Well, let me show you a couple charts. The first one is for the sales across all systems for the latest Call of Duty game. (graph courtesy
vgchartz.com
)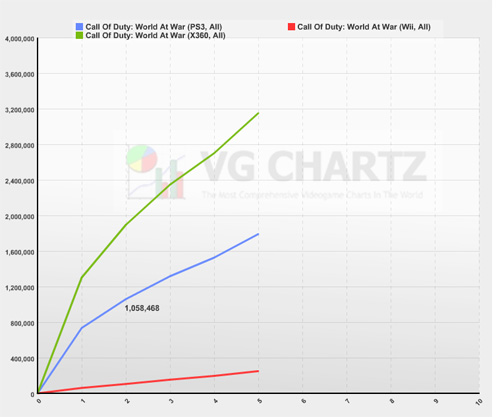 That thin wedge at the bottom represents the Wii's sales, a figure so small that I believe it's dwarfed by the number of copies of the game eaten by raccoons during shipping. If I was a third party developer I'd look at this graph, and decide to never devote another cent to Wii development for anything that isn't a Dora the Explorer fishing game. Hardcore gamers don't buy games for the Wii. Apparently I don't exist. On the other hand, the size of the Wii's install base is well past the point where it can be safely ignored or disregarded. Even if a sizable portion of the Wii's owners have no interest in playing anything besides the cow-riding game in Wii Play, that still leaves millions of Wii owners out there who do. And that's how crazy shit like this can happen:
Yes, that's a Wii game outselling Halo 3. Sure Mario Kart is a venerable franchise, and all games made by Nintendo sell well, but still.
A game on the Wii is outselling Halo.
So as for the likelihood of more "good" games coming out for the Wii in the future, I dunno - there's factors either way. I guess the reasonable thing to say is that "it can't get any worse than it is," because currently the only thing my Wii is doing is keeping a couple DVD's elevated an inch or so above whatever it is the Wii is resting on.