Early 90s German Techno band, or the face of the future?
But all that doesn't even matter, because the Airboard is not only ridiculously expensive (starting price around $10,000), has an exceedingly short life span and can only navigate on super smooth surfaces to begin with. But there are other efforts. Here's the Hoverboard (optimistic name, guys) which is a slightly more literal take on the concept: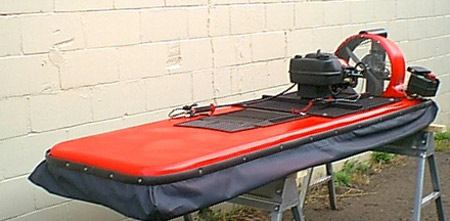 Future Horizons
, creators of the Hoverboard, seem to have drastically misunderstood the appeal of the movie version, so they just built a hovercraft shaped like a board. And the world collectively sighed, pinched the bridge of their noses, and reluctantly said "good job, guys, that is... that's just real awesome," because the world simply couldn't bear to break their hearts. This is a board that hovers, sure, but just like the Airboard, it only does so on completely smooth surfaces, it runs out of fuel quickly and it looks like a shitty Ukrainian knockoff of
Seaspray, the hovercraft Transformer
.
Whut? Is good Transforming Person, yes? You know what else can run only on perfectly smooth surfaces, achieves approximately the same speed but with better maneuverability and takes a very, very long time to run out of juice? A skateboard. That's the whole point of the Back to the Future hoverboard fantasy: A super-speed skateboard that can go anywhere at high speeds, for long distances, and not spackle the sidewalk with a layer of bloody enamel if you hit a pebble wrong. And here's the closest thing we have to that right now, the Scarpar Powerboard: It has everything great about the hoverboard: It's super maneuverable, can generate speeds of at least 35 miles per hour (though they happily advertise you can double that), it can traverse any terrain (it even runs over a goddamn log in that video) and on one small tank of gas it can operate for up to 20 miles. There's just one problem: It doesn't fucking hover. Now, admittedly, a skating tank is pretty high on the list of "rad things I would draw on my Trapper Keeper," but no matter how awesome the Powerboard gets, it's never going to hit that futuristic milestone of sustained, personally accessible flight.
At least is has the decency to look awesome, though.
But considering that the Scarpar Powerboard, once released, will only cost about $2,000, it may have to do for now. And as soon as it is released (they're aiming for next year), I believe the only appropriate celebration would be to tie up Robert Zemeckis and drag his screeching demon husk through the woods with it until the fucking thing runs out of gas. But hey, it's not like I'm bitter or anything.
---
Find more from Robert on
Twitter
,
Facebook
or his own site,
I Fight Robots
. Where you can find him sobbing quietly in his closet after revisiting all of this heartache.