The shortage has also created a black market for something as simple and basic as execution-grade venom. Some states have had to pay hundreds of times the retail value of a poison. It's not surprising, then, that hard-up states have turned to a life of crime. In 2015, Arizona paid $27,000 to illegally smuggle a measly thousand vials of sodium thiopental unto the U.S., only to have it confiscated by the federal government. A heartbreaking conclusion to the story of a state just struggling to kill the 118 people on its death row. In cases like this, there simply are no good options. If they wait, those inmates might be exonerated, prove that they have mental disabilities, or simply die of natural causes. It's a choice no state should have to make. And the problem is growing.
Mark Henle/The Arizona Republic
The inmates are supposed to be the ones dying, not the program.
Indeed, all over the globe, we're seeing one of the clearest signals of an impending crisis: Pharmaceutical companies are acting against their natural instincts by willfully restricting how their products can be sold, so that the painkillers and sedatives they manufacture cannot be used as poison in executions. Watching these corporations scramble to not sell their products is surely enough to convince anyone that the natural order of things has been turned on its head. But it may not be too late.
The first thing we can do is conserve. Arkansas has the right idea in scheduling as many executions as they can before their supply expires. They're doing their part to reduce poison waste. But they could go further. Expiration dates are often conservative. That poison is probably still good for a few weeks after the "use by" date.
Kudos also go to Ohio for reducing their poison use. They under-dosed an inmate so that he took 25 minutes to die. It isn't as pretty or humane as a normal execution, but the poison they didn't use can be repurposed to course through the veins of someone else until their heart stops.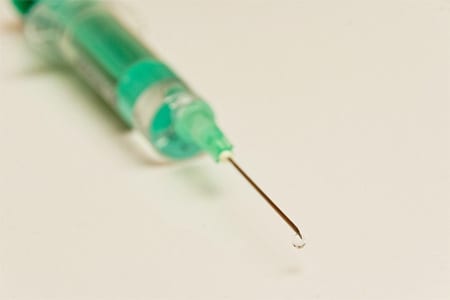 WerbeFabrik/Pixabay
Every drop counts.
But with the population growing, conservation may not be enough to meet the increasing needs of under-poisoned communities. Arizona is attempting a creative solution using crowdsourcing. They're asking inmates to provide their own toxins for lethal injections -- a smart and creative way to involve the community in conservation efforts. Unfortunately, obtaining the precious resource isn't any easier for people locked in a prison than for put-upon states. That's why we need innovation in poison recycling. For example, it may be possible to recycle the poison used to kill one person by distilling their blood into another, perfectly serviceable poison. Using fresh poison for each execution may be a luxury we soon learn to live without.
Finally, we need to seek out new, sustainable poisons so we aren't reliant on foreign poisons. This is the only way we can guarantee our country's poison security, which is something we need to start thinking about. Unless mankind's course changes, we are headed for brutal wars over our poison supply. It may not be like the movies -- people wearing tire armor in a verdant, poison-free, flower-filled hellscape -- but it is coming.
If current estimates are correct, by 2024 we could be out of poison altogether. If we don't act now, we could have a future without lethal injections. Is that how we want to be remembered by future generations? I, for one, want to leave poison for my children, and for their children's children. Let's work today to leave a more poison-filled tomorrow.
For more check out 6 Important Things You Didn't Know We're Running Out Of and 6 Ways Prison Is More Horrifying Than Movies Make It Look.
Subscribe to our YouTube channel, and check out How Not to Plan a Prison Escape, and watch other videos you won't see on the site!
Also follow us on Facebook. There's no reason not to.
More Blogs