Notable Preston Hollow residents include:
Ross Perot
—You've already accomplished something he failed to. Make sure to remind him and others of this by holding regular "ex-President" barbecues and "accidentally" sending him an invite. If he gives you any guff, just tell people you think he might be going insane. It worked on Kucinich, and they're almost twins.
Tom Hicks
—He bought the Texas Rangers from you, which gave you the capitol you needed to launch your political career. In some ways, he could claim to have "made you what you are."
Use this to your advantage, by reminding him of what a crappy President you turned out to be. Try loudly thanking him for the job when you run into him at the corner market. Soon enough,
you'll
be chairing the HOA committee on pool maintenance.
Mark Cuban
—He's richer than you, owns several sports teams and an HDTV network, and appeared on
Dancing With The Stars
. Okay, this one might be tough. You could learn to dance, but that's just asking for a debilitating injury. Your best bet is to have one of your SS guys run him down in a black sedan.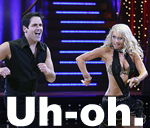 I'm not saying you should do that, I'm just saying it's
your best bet
.
Retaining Your Celebrity:
Try and keep some of that White House heat going if you can. There's a long, cold Winter ahead, and nabbing a few headlines in regional papers can go a long way towards keeping you from chowing down on two barrels of sweet, sweet release. Clinton's got his wife to lean on, and Carter's got the whole Habitat for Humanity thing. Even your Dad gets called in to give political advice now and then. Of course, Laura Bush's political career has about the same outlook as Fergie's, so no help there. And if someone calls you asking for political advice, just hang up; it's a prank. I know what you're thinking, but don't fret—there's no need to resort to philanthropy just yet.
Instead, stick to what made you our beloved leader in the first place. Buy a company, run it into the ground. Invite Rove and Cheney over for secret "planning sessions," even if you just end up watching old tapes of Felicity and talking about boys all night. Maybe even pick up your cocaine habit again (