Exhibit A: Convoluted User Agreements Which Result In Enslavement
"I'm a smart person," you tell yourself in the mirror every morning. "I'm not going to get inducted into a cult. Not today. Not again." Because who would be stupid enough to agree to a contract for a Scientologist organization, like this one:
Church of Scientology
Awww, seahorsies! I'm in!
That's right -- for the mere price of your autonomy for the next billion years, you too can bring "ETHICS IN" on the "PLANET AND THE UNIVERSE" (nitpicky note: the Universe already implies the inclusion of the planet). But you, being of sound mind, body, and billion-year-old soul, would never fall victim to such an obvious ploy. To congratulate yourself on your superiority, you open up iTunes -- or rather, iTunes opens itself in what should be frightening proof of the singularity. Then this familiar screen appears: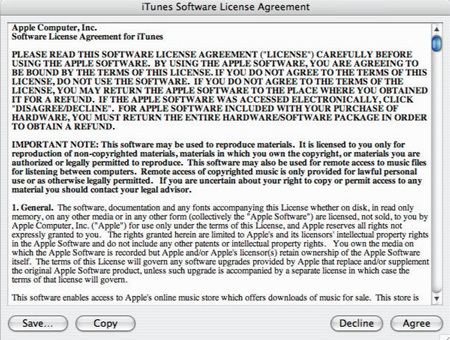 Apple
Section 56, Clause B: Your hereby abdicate ownership of your firstborn child.