That's right -- for the mere price of your autonomy for the next billion years, you too can bring "ETHICS IN" on the "PLANET AND THE UNIVERSE" (nitpicky note: the Universe already implies the inclusion of the planet). But you, being of sound mind, body, and billion-year-old soul, would never fall victim to such an obvious ploy. To congratulate yourself on your superiority, you open up iTunes -- or rather, iTunes opens itself in what should be frightening proof of the singularity. Then this familiar screen appears: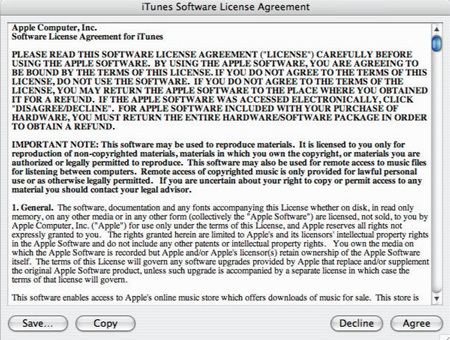 Apple
Section 56, Clause B: Your hereby abdicate ownership of your firstborn child.
If you mindlessly click "Agree" to whatever horrors are ensconced within the legal mumbo-jumbo, then congratulations! You might have signed away your life for a trillion billion years, for all you know. Do you feel lightheaded? That's just your soul being vacuumed out of your gullible body.
Exhibit B: Feverishly Devout Followers
I told one of my friends (who happens to be a Shapple) that I was writing this article. A blank look crossed his face, colorful whirling balls spinning in his eyes as his indoctrinated mind crashed.
He's only one of many victims of Apple's mind control. Signs of an Apple iLluminati member include tattoos:
Tattoo Art Club
"Let the cows brand themselves," the Apple iVerlords chuckle.
Mandatory Apple acolyte robes and identification tags:
Mac Observer
Ear gauges and beards not required, but strongly recommended.