Creepshow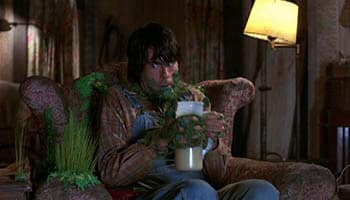 Warner Bros.
Creepshow is an anthology horror film that's honestly one of the top five things that's ever been put in front of an audience. It's delightful, and, surprisingly, it doesn't stop being delightful when Stephen King gets an entire segment to himself called "The Lonesome Death Of Jordy Verill." In it, King plays Jordy, a beer-drinking, wrestling-watching lunkhead who gets infected with some "meteor s**t" and ends up agonizingly shooting himself in the f*****g head while saying "Let me be lucky ... just this once ..." It's the closest King will ever come to an Academy-Award-winning performance, and it should be studied in acting classes that are only open to Stephen King.
Maximum Overdrive (And The Maximum Overdrive Trailer)
EUE/Screen Gems
In Maximum Overdrive, Stephen King's only directorial effort, he plays "The Guy Who Gets Called An a*****e By An ATM." Fittingly, one of his only lines, spoken with a Southern drawl that sounds like Jeff Foxworthy drowning, is "THIS MACHINE JUST CALL ME AN a*****e."