Bare is the first non-toxic,
skin-safe conductive ink
. It essentially transforms the human body into a functioning circuit component which, despite being the entire reason robots killed people in
The Matrix
, is actually pretty neat. Although right now, Bare is mostly used for performance art pieces (if you're not familiar with the art world, that's OK: "Performance Art" is what pale men named Heinrich call it when they strip nude and yell at passersby about stuff like "societal amorality" and "machine-emotion"). The conductive ink can be used for more utilitarian and entirely practical purposes… like playing the naked lady piano!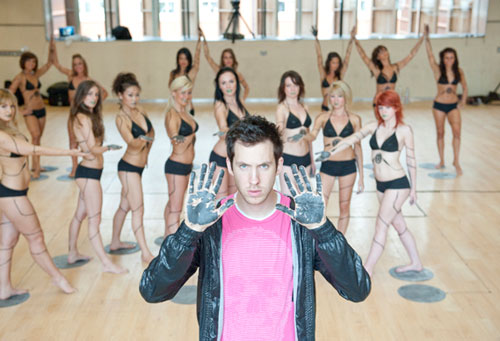 "I am a musician. Women are my instrument. No, for realsies; I'm not just being a dick here." In order to hock musician Calvin Harris's new single, Sony Music set up a human synthesizer using Bare-painted bikini models instead of keys. Mr. Harris performed his song by touching hands with each model in turn to complete their circuit, thus activating the conductive pad they were standing on and triggering their pre-assigned sound. That's right: Sony Music advocates using women like inanimate objects. So don't be surprised when Sony Pictures starts using whores as camera mounts and driving nails into their sets with the skulls of loudly protesting skanks. Explosive Energy Drink
Inspired by the video game,
Gears of War
,
the Imulsion energy drink
is based off of an in-game liquid described as a "phosphorescent, highly volatile, low-viscosity fluid." In the game "direct exposure for any length of time" to Imulsion will cause subjects to "transform into highly explosive forms." That could all be metaphor, of course, for the aggressive edginess often brought about by high doses of caffeine, thus causing the drinker to "explode" at the drop of a hat... or it could literally turn your pee into dynamite. Only time and the ratio of ruined toilets to ruined relationships will tell. It should also be noted that, like all energy drinks, Imulsion has the consistency of expired cough syrup and tastes like somebody raped a lemon.
Gel Condom
Another product not officially released for public use, the gel condom is meant to help stem the tide of HIV infection in developing countries.
The Gel Condom
is usable by both sexes, but it's mostly meant for women who might find themselves sleeping with men refusing to use a condom themselves. The gel works by shifting from a liquid to a solid when coming in contact with sperm, thus physically entrapping semen to be disposed of later. If it helps, think of it like Angelina Jolie: Full of noble intentions but really only good for a quick fuck and then should be promptly discarded before it starts to smell. Though it's invaluable for women, there's little added benefit for men over a regular condom. Although if you've ever wanted a Transformer for a penis, this is probably as close as you're going to get for now.
Of course my dick is a Decepticon. Did you think it'd be a good guy? What? Don't front; we've all wanted our dongs to change into trucks at some point. Just own up to it. Don't make this weird. *** And now to the second half of the review: How do these things perform in real life or, more importantly, how well do they facilitate your pussy intake? Well, thanks to extensive Photoshop manipulation and a technique I call "fantasti-lying," I was able to attain the assistance of a very attractive young lady for the night's experiment (though she seemed quite uneasy when I referred to our prospective date as "the night's experiment"). I started off our evening by boiling some water and burning off my tastebuds before downing six cans of Imulsion. If there's anything Sex in the City has taught me, it's that women love energetic, confident, violently explosive men, and the Imulsion certainly gave me all of those things in spades. After the fifth can or so, the world began to vibrate at a frequency exactly counter to my saccadic eye movements, tinting my vision with a parade of angular lines--an effect somewhat akin to that of a half-erased Etch-A-Sketch.