There's a plethora of product review sites on the Internet, but they all have one problem in common: Responsibility. They're always "carefully testing products" given to them "expressly for that purpose," and where's the fun in that? Plus, they don't have nearly enough pictures or boobs and almost never use the word 'ball-crushingly' to its full effect.
See that? Already this is twice as good as a normal product review.
Not only will I review products that appeal to you, the Cracked demographic, but I'll actually see how they perform out in the real world with that most difficult and demanding of scenarios: Trying to get some. First up, the breakdown:
---
Cthulhu Perfume
Produced by Black Phoenix Alchemy Lab,
the Lovecraft Collection
of perfumed oils are all scents directly drawn from, or at least inspired by, the works of H.P. Lovecraft and the Cthulhu universe. There's a lot of good stuff to choose from here, like Azathoth, The Daemon Sultan, whose marketing copy reads: "Azathoth is the blind, idiot god who sits on a black throne at the center of Chaos. His scent is high-pitched and screeching, both impenetrably dark and searingly bright with the clarity of madness: tangerine, saffron, vetiver, black amber and cedarwood." And while that sounded interesting (let's face it, nothing screeches like cedarwood) I'm a straight-up sucker for the classics. I had to opt for Cthulhu himself: "A creeping, wet, slithering scent, dripping with seaweed, oceanic plants and dark, unfathomable waters." Simple, classy, elegant- who am I kidding? Words cannot describe the scent that is Cthulhu, for to describe it is to invite madness into this world. Although frankly, if somebody billed a scent as "Cthulhu-like" and smelling it didn't rupture the void between this world and the forgotten abyss, I'd ask for my fucking money back.
Shape Shifting Car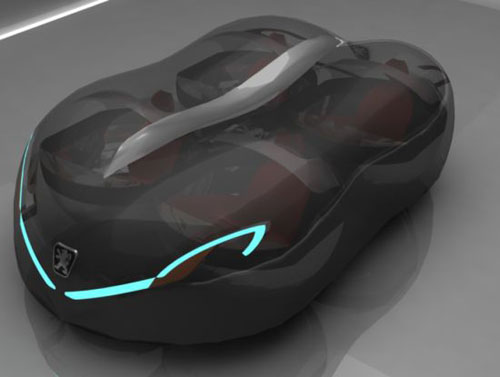 Technically speaking,
the Peugeot Globule
is not a product up for review. It's what automobile makers call a Concept Car, which basically means it's the car design equivalent of masturbation: often secret, not meant to be shared with others and frequently inspiring both shame and regret when it is revealed. But luckily for you my passion for a thorough consumer review is only rivaled by my passion for grand larceny. Let's just say I "acquired" a test model. The Globule is comprised of four separate, distinct pods that can take one passenger a piece. They're each individually powered, so adding or subtracting a globule doesn't affect the power or performance of the vehicle, and are all held together in a flexible polymer coating that allows for on the fly adjustment. The design is as sleek and sexy as you'd expect a high-end concept to be, and the gel-like exterior and ribbed texture are perfect for the eight people on earth who have always wanted to travel inside of a buttplug.